Posted on
Tue, Feb 19, 2013 : 10:53 a.m.
Judge finely crafted cocktails at the Artini Martini Crawl
By Ann Dwyer
Say what will you will about the 7-11-ing of downtown Ann Arbor, you really can't complain about the bar scene (although some people probably will). At the Artini Martini Crawl, you get to judge the best martinis these establishments have to offer.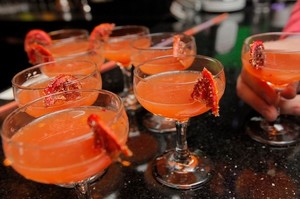 This year's locations are Babs' Underground Lounge, The Black Pearl, Cafe Felix, Habana, Mash, Melange, The Last Word, The Ravens Club, Rush Street and Vinology.
This event is an annual fundraiser for the Ann Arbor Art Center.
The last one to say "not it" will have to be the designated driver, I'm sorry.
Not it!
• Check out a photo gallery from last year's event
Friday, February 22, 2013. 7-10 p.m. $45. Purchase tickets at www.annarborartcenter.org. Downtown Ann Arbor.