Posted on
Thu, Aug 2, 2012 : 3:01 p.m.
Karen Simpson, local author, has book selected for national book club and will appear at WCC
By AnnArbor.com Staff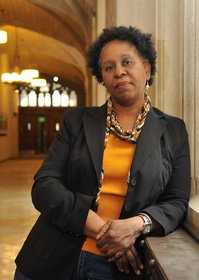 The
Go On Girl Book Club
has announced that it has selected the novel "Act of Grace," by Ann Arbor-based author
Karen Simpson
, for its September 2012 book club pick.
The Go On Girl! Book Club is a nationally recognized, not-for-profit organization that supports authors of the Black African Diaspora by choosing one book per month for all club members to read. The club reading list is formed twice a year. Members read a book each month, meet to discuss it, and then write the author of the book to express their opinions about the work. Previous authors that have received this honor include Bebe Moore Campbell and Terry McMillan.
"When I first started my writing career some ten years ago, I used to go to the Go On Girl Book Club website and dream that someday my novel would be selected," said Simpson in a press release. "I didn't think it would happen. Well, dreams can come true."
Since "Act of Grace" debuted in April 2011, it has won several awards, including the Silver award in the IPPY (Independent Publishers) Book Awards for visionary fiction. The novel is loosely based on an incident that happened almost 15 years ago in Ann Arbor during a Klan rally. When what was supposed to be a nonviolent protest became violent, a young black woman saved a white man - who was wearing a Confederate flag T-shirt - from being beaten by throwing her body over him. In this fictional work, the main character, Grace, uses insight shaped by the wisdom found in African American mythology, as well as the book "The Velveteen Rabbit," to recount a story of eye-for-an-eye vengeance that has blinded entire generations in her hometown.
Locally, Simpson will be part of the African American Cultural & Historical Museum of Washtenaw County's "Focus on the Arts: Authors" event (alongside Edith Eddins, Beverly Jenkins and Debbie Taylor) on Sunday, August 26, from 4-6 p.m., at Washtenaw Community College's Morris Lawrence Building, room 150, at 4800 E. Huron River Dr. Tickets are $20 ($5 for students). For tickets or information, call 734-819-8182 or email deborahmeadows2@msn.com or visit www.aachmuseum.org.
Simpson was born in Detroit and spent most of her life in Ann Arbor, which she describes as a "great place for artists of all kinds to live and work." As a historic preservationist trained in heritage interpretation and administration, Karen has also designed exhibits for museums and historical institutions that deal with issues of cultural diversity and racial reconciliation, and presented and published papers on various aspects of African-American culinary and agricultural history. Aside from writing, her dream job is to become a director of programs for a living history museum, though she confesses that her biggest dream as a child was to become a writer.