Posted on
Tue, Oct 16, 2012 : 5:44 a.m.
Quirky one-man band Keller Williams playing the Blind Pig
By Kevin Ransom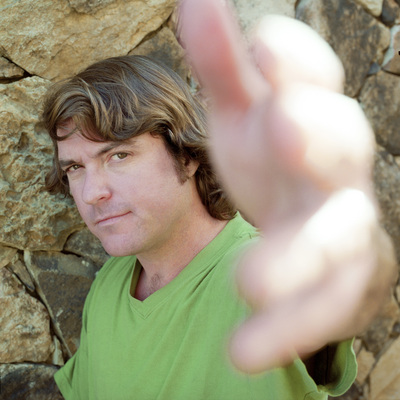 "Doing my solo shows makes me excited about collaborating with other artists, and collaborating with others makes me excited about doing my solo shows—each aspect of what I do helps the other."
That's how Keller Williams describes his fondness for the eclectic hopscotching he does between solo and group projects. In recent years, he's played and / or recorded with the String Cheese Incident, The Keels, and members of the Grateful Dead. And his latest album, "Pick" was a confab with the Travelin' McCourys, which is the offshoot from the iconic bluegrass act The Del McCoury Band, minus Del, who is easing into semi-retirement.
But even in his solo shows, Williams is a literal one-man band. Onstage, he plays an acoustic guitar that is patched into an Gibson Echoplex delay system that he operates with foot pedals. So, as he plays and sings, he uses the pedals to create sonic loops that add more textures, which he then plays along with, and improvises off of—essentially creating the sound of a full band. (He also sometimes bangs on plastic tubes and feeds that sound into the system, to percussive effect.)
He also has an electric guitar and bass propped up onstage, which the delay system is also patched into, and every now and then "I'll play 8 or 16 bars on one of those, and which just adds more possibilities to the mix. It's very freeing—there is an unlimited number of directions I can go in with this approach," says Williams, who comes to the Blind Pig on Friday.
"I have hundreds of songs that are somehow stuck in my brain, and I can choose from any of them, at any moment, and make up a groove on the spot, and then go in any other direction the moment I want, without having to have rehearsed it all with a band."
And, since improvisation is a big part of Williams' onstage approach, he has developed a big following on the jam-band scene.
The bluegrass project with the McCourys will not surprise anyone who knows Williams' musical background. He's been a bluegrass fan for years, and often incorporates bluegrass elements into his own music.
PREVIEW
Keller Williams
Who: Hard-to-describe, eclectic "one-man band."
What: Eclectic and creative pop-rock.
Where: Blind Pig, 208 S. First St.
When: 9 p.m. (doors) Friday, Oct. 19.
How much: $20 advance / $23 at door. 18 and over. Info: 734-996-8555.
And he describes the "Pick" project as something "that just seemed like a natural fit. They like to play different gigs with different guitar players, and I'm a solo artist who also likes to play with other groups, and I love bluegrass," says Williams.
"So we sat around for a couple of days and picked some tunes—some songs they already knew, plus some of my songs that I taught them," says Williams by phone from his home in Fredericksburg, Virginia.
Later, Williams sent the McCourys some audio files of his new songs, "and they had their own ideas for arrangements, and just put their own spin on them. And when I play with them live, it's just an amazing experience to be performing with musicians of that caliber. Sometimes it just gives me goosebumps when I'm up there with them."
"Pick" includes some Williams originals as well as some covers, including interpretations of songs from outside the bluegrass catalogue, which they re-work in bluegrass fashion—like My Morning Jacket's "I'm Amazed."
"Actually, when you break that song down, it really is a bluegrass song at its essence," says Williams. "I mean, the guys in Jacket don't play it as a bluegrass song"—indeed, Jacket is a plugged-in rock band that has played everything from alt-country to psychedelia to prog rock and beyond.
"And they don't even know it's really a bluegrass song," adds Williams with a laugh. "But it is."
But the record is not all bluegrass. Williams and the McCourys draw on other styles, like on their cover of Jesse J's "Price Tag," which they turn into a folk / reggae / chamber-pop hybrid, with a skanking bassline that "is a blatant ripoff of UB40," concedes Williams.
As for Williams' collaborations with former members of the Dead, those experiences sometimes made him want to pinch himself. For a few weeks in 2010, Williams toured as part of The Rhythm Devils—the band led by Mickey Hart and Bill Kreutzman, the former drummers for the Dead. And in the summer of 2011, Williams played with Ratdog, the band led by Bob Weir, the Dead's former second guitarist / singer.
"Playing with those guys was a total honor, and felt like I had come full circle," says Williams. "In my late teens and early 20s, I'd work some menial job for six weeks and save my money, and then go on the road and see 10 Dead shows in a row, and then come back, get another job, work another couple months, then quit and go see 10 more of their shows.
"So, to be in the same room and onstage with them was very humbling and mind-blowing. They're regular people, and nice guys, but it was still hard to forget who they were and what they had meant to me."
And now, Williams has another collaboration in the works. He's hooked up with "a couple of black soul-funk bands out of Richmond that also have some church music background, so they're coming from gospel music as well," he says. "They each have sort of a rotating line-up, and they're incredible players, and I've been learning different kinds of gospel chord progressions from them, while also teaching them my songs.
"We're going to do a series of shows in December, and we're hoping to record them and maybe release it as a DVD. But I really love playing with these guys, so we'll see where else that might lead."
Kevin Ransom is a free-lance writer who covers music for AnnArbor.com. He can be reached at KevinRansom10@aol.com.