Posted on
Sun, Mar 28, 2010 : 6:06 a.m.
Ann Arbor Film Festival celebrates visionary filmmaker Kenneth Anger
By Chrysta Cherrie
Exhibiting the early works of emerging filmmakers like Kenneth Anger in the '60s and '70s helped to establish the Ann Arbor Film Festival's reputation as the premier event for cutting-edge cinema. Now in its 48th year, the festival welcomed back the avant-garde auteur for 2 special programs (supported by an Academy of Motion Picture Arts & Sciences grant). The first, a screening and discussion, took place Saturday night; a retrospective follows today.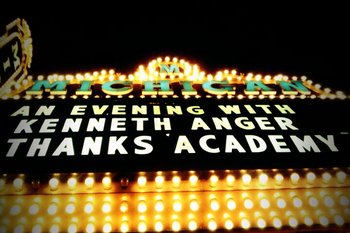 Chrysta Cherrie | AnnArbor.com
While Anger himself might not be a household name, his influence on the film world is extensive. He began creating short works in the late '30s, when experimental film was in its infancy, and soon began exploring themes such as homosexuality and the occult that were not only highly controversial at the time, but in the case of the former, illegal. Stylistically speaking, his hypnotic cinematography was an antecedent to the likes of David Lynch and Guy Maddin.
Anger's best known work, "Scorpio Rising" (1963), juxtaposed the exploits of a biker gang against provocative images of Christ, Nazis and nudity, set to a soundtrack of '50s hits. "Scorpio"'s powerful use of music, energizing the visuals and serving as ironic commentary, has been credited with influencing George Lucas' "American Graffiti" and Martin Scorsese's "Mean Streets." And indeed, Scorsese describes Anger as a "unique filmmaker, an artist of exceptional imagination."
To learn more about Anger's career, web site Senses of Cinema offers a detailed essay.
Saturday night's An Evening with Kenneth Anger began with the screening of 4 of his films, recently restored by UCLA. The program:
"Fireworks" (1947)

"Rabbit's Moon" (1950-1972)

"Scorpio Rising" (1963)

"Kustom Kar Kommandos" (1965)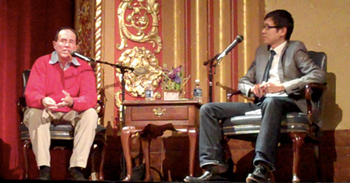 Chrysta Cherrie | AnnArbor.com
The discussion portion of the evening was as unpredictable and spirited as Anger's works themselves, more like a conversation among friends, as the filmmaker talked about tattoos, British occultist Aleister Crowley and ... the Jonas Brothers?
Here are some of my favorite moments:
Kenneth Anger - "Fireworks" pt. 1 (1:13) Kenneth Anger - "Rabbit's Moon", Stan Brakhage (1:23) Kenneth Anger - "Scorpio Rising" (3:04) Kenneth Anger - Embracing pop culture, Jonas Brothers, and notes on postermaking (5:40) Kenneth Anger - Marilyn Manson (audience question) (0:40) Kenneth Anger - Tattoos, pt. 1 (1:46) Kenneth Anger - Aleister Crowley, wrap-up (1:43)
For inquiring minds, there are more snippets in this entry and the entire unedited Q&A is also available.
The retrospective running Sunday afternoon features:
"Eaux D'Artifice" (1953)

"Inauguration of the Pleasure Dome" (1954)

"Invocation of My Demon Brother" (1969)

"Lucifer Rising" (1970-1980)
This is a rare opportunity to see some of experimental film's most influential works on the big screen; don't miss out. The Kenneth Anger retrospective is today at 3:30 p.m. in the Michigan Theater screening room. General admission tickets are $9 and available at the Michigan Theater box office or online at TicketLeap.
Chrysta Cherrie is the entertainment producer/copy editor for AnnArbor.com. Reach her at chrystacherrie@annarbor.com or 734-623-2526, and follow her on Twitter @chrystacherrie.