Popular vampire author Sherrilyn Kenyon releasing new novel, appearing at a favorite stop - Ann Arbor
Posted on Sat, Jul 30, 2011 : 5:21 a.m.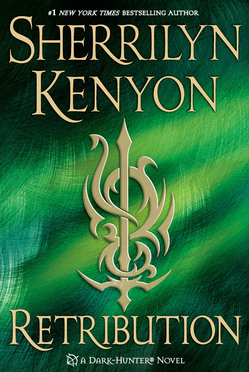 If anyone has demonstrated stubborn persistence, it's New York Times best-selling novelist Sherrilyn Kenyon.

Before she hit it big with her acclaimed "Dark-Hunter" series — the 33rd of which, "Retribution" will be released Aug. 2, the same day she visits the Barnes & Noble store in Ann Arbor — the author faced enormous struggles: abuse, homelessness, two life-threatening pregnancies, several deaths in her family, several false starts with her writing career that included a publisher telling her never to submit anything again, and her agent leaving her.

These harsh circumstances could make anyone quit. But Kenyon bulled forth with "raw determination."

"About 14 years ago we were homeless. That was not fun. Eventually, we ended up in a rickety, crappy apartment," said Kenyon, 46, of Tennessee. "I kept writing. We had no money. It's hard to chase a dream when you can't afford a postage stamp for it."

Kenyon kept writing, despite being impoverished, eventually selling her first novel, "Born of Night." Five more sales quickly followed, but she didn't sell another book for nearly five years.

Learning that Regency-era romance novels were en vogue, she penned one, "Part of her Own." Upon submission, she received the worst rejection letter of her career: "No one at this publishing house will ever be interested in this author. Do not submit her work to us again." Her agent promptly left her.

Devastated, Kenyon kept writing. But at this point, she would write for herself, not the latest marketing trend, penning "Fantasy Lover," the first in her "Dark-Hunter" series, which has sold more than 20 million copies in 30 different countries and has spawned the annual K-Con in New Orleans.

"That was the point where I'd never write a marketable book again. I'm listening to the characters from now on. If I'm gonna fail, it'll be on my terms and writing books I want to write," said Kenyon.

Not long after, Kenyon read an advertisement where an editor at Harper Collins was looking for manuscripts. She sent in the "Fantasy Love" and "Part of Her Own." The editor bought the latter and gave her a three-book contract, but she had to use the pseudonym Kinley MacGregor.

"My agent ended up leaving me for, ironically, the Kinley book that actually sold. I got three-book contract on it after I stole a stamp from my husband and borrowed money from my neighbor to send the proposal off. I did pay her back," she recalled, laughing.

"Kinley hit the (best-seller) list first, but Sherrilyn's the one who's known. They didn't want people to know that Kinley's writing weird vampires. Ironic, huh? I'm still writing Kinley books, but now they have my name on them."

Kenyon eventually found an agent to represent her "Dark-Hunter" novels and eventually sold them to St. Martin's Press.

The mythology for the "Dark-Hunter" series strays from traditional vampire lore. Vampires — also called Daimons — have been cursed by the god Apollo. To achieve immortality, the vampires must feed on human souls. Leading the fight to save the human souls is Artemis, goddess of the hunt and leader of the Dark-Hunters.

According to Kenyon, "Retribution" is different from prior "Dark-Hunter" novels: "The book is centered around the Cherokee Prophecy, which unlike the Mayan Prophecy, is not a total doomsday prophecy but a recycling of events of what will come. The calendar will reset. The Cherokee look at everything like it's cyclical. Any one cycle begets another. The villain in this case tries to stop events from unfolding so they can control their destiny," said Kenyon.

Kenyon said she has been touched by the outpouring of support she has received from her devoted fans, particularly in Ann Arbor. Last year when she came to the Borders Books & Music store on Lohr Road, several hundred fans greeted her. Gayle Townsend, Barnes & Noble community relations manager, is expecting "hundreds" of people to show up at Kenyon's Aug. 2 signing.

"I have a tremendous fan-base in Ann Arbor. They're always good to me. I try to make one stop a year there," she said.

Townsend said that she'll start giving out line tickets at 9 a.m. Tuesday. To keep fans entertained, Townsend and her staff will be giving away promotional items, including pendants, posters, and T-shirts.

"We're very excited and honored to have (Kenyon) here," said Townsend. "We expect the signing to be fun."

"I love the fans… I'm a homebody. If it wasn't for the fans, I'd never the leave the house," Kenyon said, laughing. "Writers, by their natures, are dreamers… It's weird to live the dream sometimes. In the childhood I had, dreams aren't supposed to come true; that's kinda amazing for me."

Visit Kenyon at www.sherrilynkenyon.com.

Kenyon will appear Tuesday, Aug. 2, at 6 p.m. to sign copies of her latest book, "Retribution," at the Barnes & Noble located in the Huron Village Shopping Center at 3235 Washtenaw Ave. in Ann Arbor. For further information, call 734-973-0846.