Posted on
Fri, Nov 23, 2012 : 5:10 a.m.
Kerrytown Concert House displaying abstract art of Chrisa Craig
By John Carlos Cantu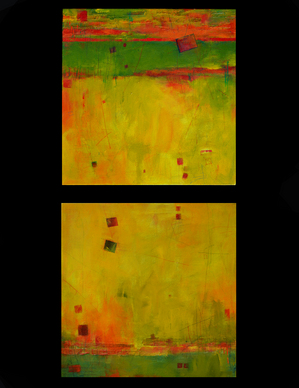 Chrisa Craig's "thoughtsonSQUARES" at the Kerrytown Concert House is a definite treat for—well, squares. And she's proud of it.
An emeritus professor at The College of New Jersey, Craig served as coordinator of their art education program—having taught methods courses, studio courses, and non-western art history. Holding a doctorate in education from New York University, she's presented workshops and papers for the International Art Education Association and state associations. Add stints as an art education consultant as well as work with several public school systems in New Jersey, and Craig has certainly seen and created enough art to know the square's value.
Indeed, as she observes in her Kerrytown statement, "The paintings in 'thoughtsonSQUARES' have been informed by a lifetime of experiencing art: looking at it, making it, and thinking about it. As a teacher of art and culture from around the world, I've been exposed to thousands of visual ideas. It's been an exhilarating process."
The same thing can certainly be said of her geometrically abstract art.
As Craig tells us, her experiences have given her "a host of references from which to draw." It's therefore noteworthy that, as she additionally puts it, "thoughtsonSQUARES" finds her "getting back to basics" because this display attempts to communicate visually through an elemental universality.
The square is a common presence. Yet its four equal straight sides and four right angles create an artifice, in contrast to the circle, whose curve seems more organic. The square is a learned device, since there are really rather few to be found in nature. And this cerebral orientation richly suits Craig's abstract art.
For as she additionally says in her statement, "Because of my past, each of the paintings has a history of its own. Beneath the surface one may find remnants of images and notations that refer to the initial dialogue with the virgin canvas. Like those who have come before us, these marks are gone, but not quite forgotten. They contribute to the image we experience now as the past contributes to our present."
This orientation gives a subtle conceptual transcendence to her superior modernist abstraction.
For example, her "Egyptian Reverie" mixed-media diptych finds Craig working comfortably within her rectilinear orientation. These two square canvases are stacked on the Kerrytown wall, featuring a red to green to yellow melding of pigments whose reversal of field starts at the work's ground and then flips at its top across the upper canvas—and, of course, like the angles of a square, visa-versa.
Additionally, strewn across both working surfaces are small red and green squares and rectangles haphazardly tossed about the painting's foreground. Bleeding primary to secondary pigments in each direction, these "Egyptian Reveries" demarcate the work's scraped overlay.
"Egyptian Reverie"—like the other rectilinear-oriented Craig paintings on display—is geometric abstraction at its most accomplished. Hermetic, yet fielding a consistent visual vocabulary, this diptych exhibits a strategy that's uniform enough to have been crafted by a single hand. So we may read into it what we will, but the work's strength lies in its visual universality.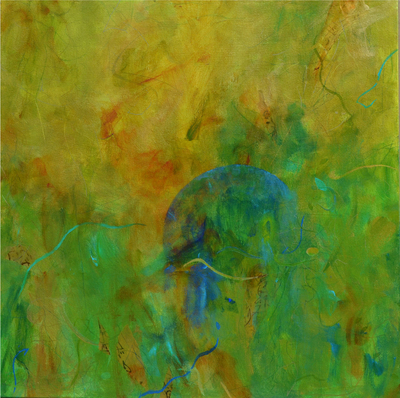 All the more reason, therefore, that Craig's mixed-media "Ottoman Fantasy" is paradoxically atypical, yet also consistent with her other compositions on display. For the only square to be found in this artwork is the canvas itself.
The work is otherwise a lush intermingling of successive turquoise, gold, and green color fields floating across the painting's surface. There's no internal rectilinear to ballast the composition. Instead, the painting is a whirling chaos whose external border asserts order.
Yet beneath the painting's foreground are also a series of surreal, biomorphic figures who peer from behind "Ottoman Fantasy's" painterly fore. And these figures—like hieroglyphics found in other Craig paintings on display—indicate she's developing as keen an interest in alternative visual vocabularies as she is planar geometry.
It's a weighty development because abstraction isn't an easy art to create—and it's an even harder art to purify. "Ottoman Fantasy" therefore indicates Craig's art is not only diversifying; far more important, like geometry itself, it's evolving.
"Chrisa Craig: thoughtsonSQUARES" will continue through Dec. 3 at the Kerrytown Concert House, 415 N. Fourth St. Exhibit hours 11 a.m.-5 p.m. Monday-Friday. For information, call 734-769-2999.