Posted on
Tue, Mar 8, 2011 : 10:15 a.m.
Kerrytown Concert House hosting 'Journey to Africa'
By AnnArbor.com Freelance Journalist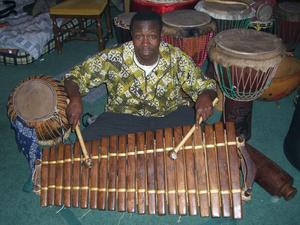 African musician Ibrahim Aminou will perform at Kerrytown Concert House on Friday with a group of local musicians.
Back from six weeks in his Niger, West African homeland, Aminou and his band will perform his arrangements of traditional African songs. He has been performing since childhood, beginning with drums and later adding guitar and balafon (African xylophone).
Aminou has performed extensively. He was also co-founder of the first FM station in Niger and hosted a successful radio show for years before moving to the U.S. He teaches African drumming classes through Ann Arbor Rec and Ed as well as on Sunday nights at RelaxStation. He has also worked with Community Records in after-school music programs.
Other performers are Patrick Donley (UM Jazz Studies and Linquistics student, recently returned from studies in Africa) on kamelengoni and keys; Eileen Bristol (bass player with First Flight and Zoumountchi and owner of RelaxStation Massage Therapy and also recently returned from Africa) on bass; Chad Sturdivant (professional drummer and member of First Flight and Zoumountchi) on drums; and Eric Schweizer (professional musician and teacher, also member of First Flight and Zoumountchi) on bari sax and clarinet.
"Journey to Africa" is set for 8 p.m. Friday, March 11 at Kerrytown Concert House, 415 N. Fourth Ave. Tickets are $10-$25 ($5 students). For reservations call 734-769-2999.