art review
Kerrytown Concert House showcasing compelling photography of John Lilley
Posted on Fri, May 18, 2012 : 5:53 a.m.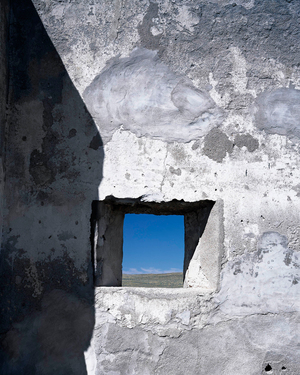 Overlapping chromatic abstraction with color digital photography, Dexter's John Lilley is one of those rare artists whose talent lies chiefly in his ability to paint with his eye. His 26 "Photographs" at the Kerrytown Concert House show us how he balances the meticulousness of photography with the precision of digital technology.

"Simply put," says Lilley in his artist's statement, "I make photographs because I see photographs. In my process of exploration, I experience the finding of an image as an emotional event; recognition comes in the form of a deeply satisfying feeling of discovery.

"However, I'm rarely attracted to the 'big picture.' Rather, my vision is almost unconsciously drawn to distinct designs, textures, and forms that occur as small subsets of the broader landscape. I'm fascinated by the myriad possibilities for abstract composition that exist in our world."

Yet some of the most powerful artworks in this superior exhibit aren't "small subsets of the broader landscape"—at least, not in the conventional sense. Rather, Lilley balances his penchant for detail with exhilaration for color, and this joyous twofold sensibility guides his aesthetic. His eye focuses on the essence.
Lilley works primarily with large- and medium-format film cameras, scanning the film as digital files. Refining the composition's contrast and palette through his computer, Lilley's photographic prints are finished through pigment ink on high-quality rag paper.
The result is art photography both sharp and playful, because Lilley likes to craft imagery that appears abstract until its context can be discerned.
Some of Lilley's work—for example, the stunning "Red Leaves, Yellow Rock Wall"—feature a colorful internal complexity. This striking photograph of a weathered wall with vines and red flowers creates a mini-drama set in solitude.
"White Sands, No.1," on the other hand, finds Lilley paring down his digital palette until the contrast between light and dark creates an insistent rhythm. No more than a photograph of shifting sand whose striated bands of light and shadow alternate diagonally across the photograph's working surface, "White Sands, No. 1" heroically relies on a few tufts of grass to accent the composition.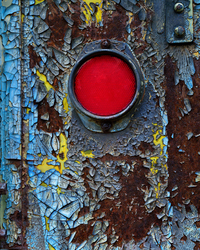 Of those works that would more precisely fit Lilley's notion of an abstract "subset," "Red Light" is in a class all its own. The photo features a red orb, but the work depends more on the craggy surface upon which the "Red Light" rests. A peeling blue facade with mottled yellow paint underneath competes with background rust; all of which is in sharp contrast to the light. And this visual tour de force takes full advantage of Lilley's foreground digital crispness as each rivulet of surface decay joins together the fragmented surface tension. It's a tactic to be found recurrently in Lilley's art.
"John Lilley Photographs" will continue through June 1 at the Kerrytown Concert House, 415 N. Fourth St. Exhibit hours 11 a.m.-5 p.m. Monday-Friday. For information, call 734-769-2999.