Posted on
Fri, Mar 11, 2011 : 8:02 a.m.
Comedian Kevin Hart brings down the house in EMU appearance
By Will Stewart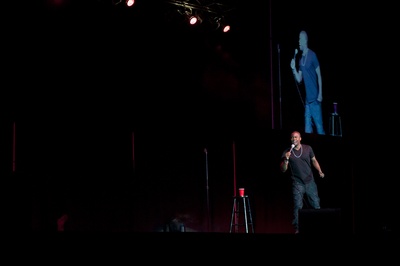 photo by Jakob Skogheim | courtesy of Eastern Michigan University
When a comedian is on stage cracking himself up — like literally crying tears of laughter — in the middle of a bit, it's a pretty good sign he's onto some good material.
So the fact that Kevin Hart spent a good portion of his 50-minute set at Eastern Michigan University's Convocation Center Thursday wiping tears from his own eyes tells you a lot about what the sold-out audience was doing.
(Here's a hint: there will be a lot of sore stomachs around Ypsilanti this morning.)
Whip smart. Profane. Self reflective. Hilarious. Hart is all that and more, and if there's a funnier comedian working today we haven't seen him.
From the beginning of is set to the last second he was on stage, Hart brought the laughs as he riffed on everything from his own lack of physical stature, to his childhood and his parents to his own children.
As often as he was positing his cutting humor at his friends and family, though, he was turning it back on himself.
And while it was all funny, it wasn't always pretty.
There's a reason his current show — which he said he's about to film as a theatrical release — is titled, "Feel My Pain." has seen his share of pain, including his father's cocained addiction, his mother's death and his own divorce — and it was all there on Thursday.
Of course this isn't unprecedented. Richard Pryor's best material was always tinged with his own tragedy — and it's not a stretch to put Hart in the same sentence as Pryor. Also like Pryor, we couldn't find a single line of dialogue that we could quote without gutting it of its profanity and, in turn, it's meaning.
But that's OK. They wouldn't be funny in writing anyway.
Suffice it to say that, on Thursday, Hart built his act masterfully, returning frequently to recurring imagery of his father's druggie escapades and how they embarrassed him as a child, only to realize that, as an adult and minus the narcotics, he's pretty much a mirror image of his old man.
And if that isn't pain, what is?