Posted on
Fri, Mar 11, 2011 : 1:34 a.m.
Nothing silent about filmmaker Kevin Smith as he screens latest film, hosts Q&A Thursday night
By Roger LeLievre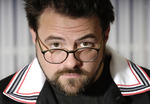 He may have played a character named Silent Bob in movies such as "Clerks" and "Jay and Silent Bob Strike Back," but actor/director Kevin Smith was far from tongue-tied in an appearance Thursday night at the Michigan Theater.
The indie film auteur drew about 900 people to a screening of his latest movie, "Red State," after which he spent more than two hours talking about making the movie and taking questions about his film career.
"Ramble much?" the guy behind me muttered, good-naturedly, as Smith, clad in an orange and blue hockey jersey and looking noticeably slimmer than the last time he appeared in town, took more than 30 minutes just to answer the first query, not that anyone else waiting in line seemed to mind. Clearly he was among friends.
"Red State" — which stars Michael Parks, recent Oscar winner Melissa Leo and television veteran John Goodman (Dan Connor in "Roseanne") — revolves around a religious sect not unlike the real-life Westboro Baptist Church, the Kansas congregation that is known for opposing gay rights and holding demonstrations at the funerals of U.S. service members. When three horny (and heterosexual) teenaged boys wind up as prisoners of the church, and law enforcement gets involved, bullets start to fly and the body count soars.
Topics the charismatic Smith addressed in the Q&A session included the recent free-speech case decided by the U.S. Supreme Court in favor of the Westboro group, Michigan's film tax incentives and his upcoming retirement from filmmaking.
On the Westboro protesters: "Horrible but entertaining." Smith said he was glad the Supreme Court made the decision it did. "On one hand you want (the Westboro people) punished. But to do that (the court) would have had to cut a hole a (expletive) mile wide in the Bill of Rights." He said "Red State" helps "take the teeth out of the monster" by turning the religious extremists into clowns and movie villains.
On how to be a successful independent filmmaker: "Make 'Clerks,'" he joked. "All you have to do is look at really successful people and co-opt their ideas," he advised one questioner. "Start by hanging out with writers," he told a fledgling actor. "Partner up with creative people, help them get their creativity out there."
About the most memorable moment in his career: Although the answer was roundly cheered by the crowd, it can't be repeated, due to its graphic nature. In fact, many of Smith's cheerfully profane comments cannot be quoted in this report.
On friend and movie partner Jason Mewes and his battles with substance abuse: "It's nice to see him where he is now, grown up and productive. He's reached a good place in his life ... even Peter Pan had to grow up." (Smith also let the cat out of the bag — much to the delight of fans — mentioning a series of animated shorts Mewes has in the works based on the comic book characters Bluntman and Chronic
On Michigan's film tax incentives: (Note that Gov. Rick Snyder's name was greeted by a round of boos at this juncture.) Smith called the incentives "insanely rich," and understands why they are on the chopping block. He said if he were a taxpayer he'd be upset too if, during hard times, city officials gave away millions to filmmakers.
On his upcoming retirement from filmmaking and what he will do next: "I've done all I can with film .. I don't have anything left to give this medium. I have one more film in me. I am putting closure on something that I never thought would go this far." Asked if he would continue to write movies, he said "I wouldn't rule it out but I don't want to direct it."
His plans for the future: Expansion of his Web site www.smodcast.com to possibly include more podcasts, possible live "radio plays" and other forms of creative expression. "I can be funnier, quicker and you don't have to wait for it," Smith said, compared to the four years it took to bring "Red State" to the screen. "I can tell as many stories as I want and not worry about the cost."
Smith reaffirmed his vow to film his next and final movie, "Hit Somebody," a hockey comedy based on a Warren Zevon song with lyrics by Michigan writer and Detroit Free Press columnist Mitch Albom, at least partly in Michigan.
"I made two promises to Mitch — he said you can't make fun of hockey ... and the other thing is you have to film it in Detroit. To me (the film incentives) don't matter — we're here regardless," Smith said.
On the whole, the fans seemed to like the movie, and appreciated Smith as much as he said he appreciated them.
"It was an unexpected thing for him," said Will Soleau of Ann Arbor of "Red State." "It was certainly a departure — people getting shot, violence and not terribly comedic. It was a little bit disturbing hearing people laugh and applaud seeing individuals shot, even though they were obnoxious characters."
Rob Trevino of Dearborn Heights agreed that the film was a little different for Smith.
"It's so unlike his other work, especially visually ... I think he did a great job, it was just so far left of anything else he's done," he said. Trevino also had praise for Smith himself. "I enjoy his work because I enjoy him. He's just a real person, a down-to-earth guy who takes time to take a picture with a guy, shake somebody's hand. He doesn't look down on people."
Smith repeatedly thanked his audiences for their support.
"I borrow from Bette Midler when I say 'you are the wind beneath my wings.' ... These are harsh economic times ... we were asking a pretty (expletive) penny (for admission) so I'm gonna stay here all night long," he said..
Roger LeLievre is a freelance writer who covers entertainment for AnnArbor.com.