Posted on
Fri, Mar 4, 2011 : 5:59 a.m.
Kevin Smith bringing 'Red State' - and new distribution model for movies - to Michigan Theater
By Jenn McKee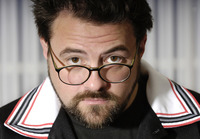 Filmmaker Kevin Smith — since finding success in 1994 with his first low-budget feature, "Clerks" (largely financed with maxed-out credit cards and the sale of Smith's comic-book collection) — has long been an indie film darling.
And with Smith's current 15-city tour for his latest film, "Red State," the filmmaker aims to blaze a path for what he calls "indie 2.0" — which is to say, he plans to stay away from traditional distribution systems (and the press, for the most part) and distribute the film himself.
First, he'll make personal appearances with the film during a "Red State Road Show" tour; and then, by partnering directly with exhibitors across the country for a planned Oct. 19 release date, Smith hopes to have "Red State" opening in theaters across the country.
And while even Smith's faithful fans have balked at the high ticket prices ($48.80 and $76.10 at the Michigan Theater) for the "Red State" tour, Smith has defended the price, citing the event as one of his similarly priced personal appearances, paired with a film screening.
"(My) fanbase is already paying 60, 65 bucks to see me stand there by myself, sweating, fatty, (saying), 'I got thrown off a plane once,'" Smith said in an interview with MTV News.
In the same interview, Smith addressed those who don't want to pay the Road Show price: "Wait till October and you'll see it for, like, 10 bucks in a multiplex."
"Red State" marks a significant departure for Smith as a filmmaker. With several provocative, foul-mouthed comedies on his resume ("Chasing Amy," "Dogma," "Zack and Miri Make a Porno," and "Jay and Silent Bob Strike Back"), "Red State" marks Smith's first venture into the straight-on horror/thriller genre, focusing on a violent, fundamentalist, anti-gay Fred Phelps-style preacher. Three teens looking for sex online end up being trapped by the preacher and his followers, leading to a Waco-like stand-off between authorities and the church.
"Red State" was shot over the course of only 25 days this past fall, with a budget of $4 million, and Smith and his team footed most of the bill.
PREVIEW
"Red State"
Who: Filmmaker Kevin Smith.
What: Screening of new horror movie, plus Q and A with the director. Smith is avoiding the studio distribution system by taking his film directly to audiences in 15 cities.
Where: Michigan Theater, 603 E. Liberty St.
When: Thursday, March 10 at 7:30 p.m.
How much: $39.50 and $65. For tickets, call 1-800-745-3000 or visit www.ticketmaster.com..
And Smith — no stranger to controversy, given the heated response to "Dogma" for its critique of Catholicism — caused a great stir at "Red State"'s Sundance Film Festival premiere on Jan. 23. Not only did a few representatives from Phelps' Westboro Baptist Church show up to protest (in response to which, Smith's fans, and Smith himself, wielded signs that read "God Hates Press Screenings" and "God Hates Critics," among other tongue-in-cheek messages); but also, Smith, after hinting for months that he would auction off "Red State"'s distribution rights following the screening, purchased distribution rights from himself for $20 and explained, during the course of a half-hour speech, his unconventional plans for getting "Red State" out to viewers, and why and how he arrived at this decision.
Smith focused largely on the economics of the process, stating that distributors spend about $20 million to market a movie, and for his $4 million film, he might get $6 million from a distributor; and because distributors don't get all of the money from box office receipts, the movie would have to gross twice that to start making a profit.
Because Smith's network of fans follows him closely through Twitter and his SModcasts, Smith hatched a plan to tour with "Red State" and then distribute the film directly to exhibitors himself. "We're not going to spend a … dime on marketing," Smith explained at Sundance. "All it takes is a little ingenuity, a little creativity."
Here's Smith's Sundance speech, in its entirety. (Note that the speech contains a good deal of profanity.)
And while responses to the Sundance screening of "Red State" have varied broadly — from a handful of rave reviews to a large number of lukewarm-to-negative assessments — locals will have the chance to hear from Smith himself about the project, as well as see the film, when the "Red State Road Show" comes to the Michigan on March 10.