Posted on
Sat, Dec 15, 2012 : 5:37 a.m.
The Killers' arena-rock anthems coming to EMU Convocation Center
By Kevin Ransom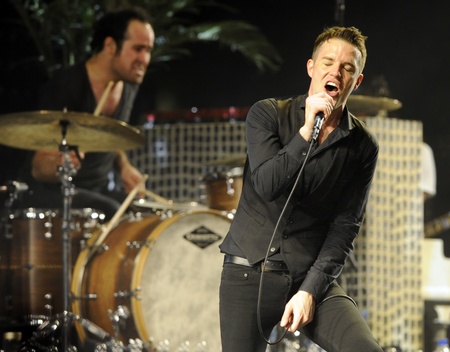 Over their 8-year recording career, The Killers have expertly channeled—or, some say, copied—a wide range of influences.
Ever since their 2004 debut album, "Hot Fuss," The Killers' sound has morphed a bit, stylistically, from to album to album, as they've collected new influences. On "Hot Fuss," the imprint of British synth-pop / dance-rock bands like Duran Duran and Depeche Mode was clear, especially on singer Brandon Flowers' vocals, which were practically an imitation of Duran's Simon Le Bon.
Their follow-up, "Sam's Town," found the band drawing deeply on Bruce Springsteen's influence, including dramatic, Bruce-style narratives. And on "Day & Age," their 2008 third disc, they began tapping into some arty-glammy David Bowie and Roxy Music sounds, as well as funk and world music.
Throughout, the band demonstrated an affinity for broad, arena-rock anthems and 1980s-style synthesizers. And along the way, they became one of the biggest rock bands on the planet, selling 15 million copies of those three albums worldwide
Now, on their current disc, "Battle Born," they seem to have synergized many of those elements, all at once. But they still really love those synths, and sometimes, their synth ethos still seems to be the cheesier, the better.
On the thumping single "Runaways," the Springsteen lure still lingers, but the song is driven by martial drumbeats and sweeping synth riffs, as Flowers sings about the challenge of raising a family while also living the life of an itinerant rock 'n' roller. "Flesh & Bone" is another big arena-pop anthem, also propelled by throbbing synths.
"The Way It Was" finds the singer hitting the open road in a red Corvette, and uses a melodramatic story line that seems to draw from the same well as the songs that Jim Steinman wrote for Meat Loaf's "Bat Out of Hell."
PREVIEW
The Killers
Who: Big-name rock band that sold 15 million copies of its first three albums, back from a hiatus. Also with Tegan and Sara.
What: Big, synth-driven, arena-rock anthems.
Where: Convocation Center, Eastern Michigan University, 799 North Hewitt Road Ypsilanti.
When: Thursday, 8 p.m.
How much: $32.50 - $59.50. Order tickets online.
The more subdued "Here With Me" again ponders domestic life, and "Be Still" is a declaration of loyalty whose lyrics would not sound out of place on a Nashville country-pop album. "Miss Atomic Bomb" is another big anthem, this one about a manipulative babe who takes advantage of a young innocent, punctuated by a guitar riff from Dave Keuning that evokes the one he played on the band's '04 hit, "Mr. Brightside."
"Battle Born" is the first album from The Killers since they announced they were taking a hiatus in early 2010, after almost 18 straight months of touring in support of the "Day & Age" disc. During that sabbatical, three of the band members—Flowers (who also plays keyboards), drummer Ronnie Vannucci and bassist Mark Stoermer—each released solo albums.
"It was like being in training," Flowers told Rolling Stone, referring to the solo projects. "I was keeping myself not just occupied, but ready." Flowers even took singing lessons so that he'd be better prepared for The Killers' return.
Then, in mid-2011, The Killers—who come to the Convocation Center at Eastern Michigan University on Thursday—made their first live appearance in over a year when they headlined the Lollapalooza Chile festival. They felt that the band was in sync, so they decided it was time to start crafting the next Killers album. A few days later, they were back in the studio together, sketching out their first songs for "Battle Born."
The writing and recording process wasn't an easy one: the album reportedly took shape in fits and starts—hence its "Battle Born" title. (That phrase is also on the Nevada state flag, and the group is based in Las Vegas.)
And, as they pondered the different sounds they wanted to achieve, they ended up using several big-name producers on different tracks—Daniel Lanois, Steve Lillywhite, Damian Taylor, Stuart Price and Brendan O'Brien.
That's "a little bit our fault," Flowers said to Rolling Stone. "We thought we would wait to see what the album was before we pulled the trigger on who we wanted." Vannucci added: "We're not used to splitting up our brains like that."
The Killers also experienced a terrible loss this year. In April, sax player Tommy Marth, who played on their last tour albums and also toured with the band, committed suicide. Vannucci said, "He would joke about serious stuff, but always throw it into the comic realm. Nobody ever said, 'Tom, you OK, dude?' We wrote a new song (before Marth died), and we were thinking about having him come in to play on that, but it never happened."
Flowers is a practicing Mormon who made a video with his wife and kids, in which he extolled the virtues of the Mormon faith. That led to Mitt Romney becoming a fan.
But Flowers didn't align himself, or the band, with Romney, or anyone else, politically. "Our music is for everybody," Flowers told Reuters. "It doesn't bother us that one particular candidate likes us or if another doesn't. For the most part, from (UK prime minister) David Cameron to Obama to Romney, everybody likes us."
Kevin Ransom is a freelance writer who covers music for AnnArbor.com. He can be reached at KevinRansom10@aol.com.