Posted on
Sun, Dec 16, 2012 : 5:58 a.m.
Kitty Donohoe celebrating 40 years of performing with special show at The Ark
By Kevin Ransom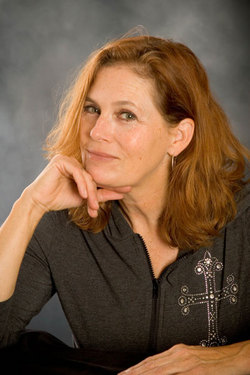 When Kitty Donohoe takes the stage at The Ark on Wednesday, it won't won't be just another other gig. The show has a special theme: It will be a celebration of her 40th anniversary as a professional performer.
Donohoe has spent the majority of those 40 years as a fixture on the Southeast Michigan folk-music scene. A Royal Oak native, she's lived in Ann Arbor for the last 10 years, and in East Lansing for 10 years before that, and previously lived in St. John's and in Detroit's Corktown neighborhood. In her younger years, she also spent some time living in Nova Scotia and soaking up that regional music.
Donohoe still remembers her first "real" gig, those 40 years ago. "It was at a bar called the Intersection, in Grand Rapids," she says. "I had done little coffeehouse things before that, but that was my first regular, weekly gig. I was really nervous at first, and I played mostly covers, but surreptitiously began sliding some of my own songs into the mix. I remember that there was a real learning curve, in terms of getting comfortable talking to the audience."
Donohoe also recalls her subsequent years on the Lansing-area folk-music circuit as a fruitful period in her development as a singer-songwriter. "That was a great atmosphere for figuring things out and honing my talents," she recalls. "There was a group of us, including Sally Rogers and Joel Mabus, and we'd always go to each other's shows. That was a time when things really began to move forward in terms of my writing and performing."
In the 1990s, Donohoe was also a founding member of the popular Irish-acoustic-rock group Pub Domain.
For about 25 years, Donohoe performed on a part-time basis, scaling things back for much of that time so she could devote herself to raising her two children. "But for the last 15 years or so, it's been pretty much full-time," says Donohoe, who has released five albums—her most recent was "Nothern Border," in 2008. And she's currently in the midst of recording another one.
PREVIEW
Kitty Donohoe
Who: Detroit-area native and longtime fixture on the Southeast Michigan folk-music scene who has lived in Ann Arbor for the last 10 years.
What: Donohoe has designated this show as a celebration of her 40th anniversary as a professional performer. Joining her onstage will be local musical pals like multi-instrumentalist David Mosher, autoharp / dulcimer player Wanda Degen, singer Katie Geddes and more.
Where: The Ark, 316 South Main Street.
When: Wednesday, Dec. 19, 8 p.m.
How much: $15. Tickets available from The Ark box office (with no service charge); Michigan Union Ticket Office, 530 S. State St.; Herb David Guitar Studio, 302 E. Liberty St.; or online from MUTO.
She also has an occasional part-time gig as "The Wine Gypsy," for Sandhill Cranes Vineyard in Jackson. "I do private wine-tasting parties, as The Wine Gypsy, where I will go to someone's home, or some other place they've chosen, and I'll perform, and also take the wines for the tasting. Those are fun."
Presently, Donohoe does 8 to 10 gigs per month, mostly in Michigan. In addition to clubs, she performs at church services, folklore centers, community concert series, senior citizens homes, etc., and recently performed at the Noel Night event in downtown Detroit.
For about half of Wednesday's show, Donohoe will be accompanied by local multi-instrumentalist David Mosher. Her longtime friend Wanda Degen (autoharp / dulcimer) and local singer Katie Geddes will also join her on few songs.
"I've invited a few others, but am not sure yet who'll be able to make it," she adds.
As a child, one of Donohoe's first musical inspirations was her mother. "She had been a piano major in college, and one year my dad got rid of our TV and bought a baby grand piano for her to play, and we had 8 kids in the family, so the only time she had to play was late in the evening. So, I remember falling asleep to her playing beautiful pieces by Brahms, Beethoven, Debussy….so I developed a sense of melody that gravitated in that direction."
As she got older, she remembers "being mesmerized by Bob Dylan and Simon and Garfunkel. And then in high school, someone gave me a Steeleye Span album, and they just rocked me, the way they tapped into traditional Celtic and English folk songs. So those were all key influences."
One of the biggest highlights of Donohoe's career was writing the stirring, heart-tugging song "There Are No Words" after the 9/11 attacks. The song got national radio play, and was used in the documentary film, "A Nation Remembers: The Story of the Pentagon 9/11 Memorial." Pentagon officials invited Donohoe to Washington to perform the song at the dedication of the Memorial on Sept. 11, 2008. "That was a very powerful experience," recalls Donohoe soberly.
Her upcoming album will be her "Irish American" album, she says. Donohoe has Irish ancestry on both sides of her family, and with a name like Donohoe, and her red hair, she says she's often had to overcome the expectation from bookers and audiences that she's "an Irish singer."
"I love traditional Irish music, but, that's not really what I do. I'm not going to do 'Black Velvet Band' and those kinds of songs. I'm third-generation Irish-American, and my influences are as much American as they are Irish. My songs mostly draw on traditional and contemporary American folk-music styles, but I've also sometimes added Irish music elements, in terms of the instrumentation, on my albums."
But her upcoming album, which she expects will be released in the spring / summer of 2013, stresses the trad-Irish element more than her previous records, she says. "Stylistically, I originally planned for it to be about half contemporary folk and half traditional, but as it's unfolded, it's become more trad-sounding than I'd anticipated."
She's been driving to Chicago—probably the most thriving Irish-music scene in America—to record it, and it's being produced by Dennis Cahill, who is renowned in Irish-music circles for his nimble guitar chops. And the album will include Donohoe's interpretations of a few trad-Irish gems in addition to her new original songs.
Cahill has many connections on the Chicago Irish-music scene, so "he's been bringing in some great musicians from that community to play on some of the songs," says Donohoe. One of those is the great Jimmy Keane, who adds his burbling accordian to Donohoe's cover of the trad-Irish classic "The Star of the County Down," on the album.
Her children, Jesse and Callie Ackles, each sing on the album, and Donohoe says that "a theme has emerged, and that is the exodus of people from Ireland to America. A few of the songs have a historical context, since that makes sense, but those themes are also universal—leaving home and family to explore a new life, the excitement and trepidation about that, the loneliness on that journey, that sort of thing.
"And as always in Irish music there seems to be a dichotomy: There are some really sad laments—who can sing sadder than the Irish?—followed by joyous, boisterous tunes. What's that all about? The yin and yang, for sure."
"Like many songwriters, I tend to be motivated to write when something is in my head that looms large—sometimes celebratory, sometimes sad—loss is a common theme, of course. As we age, that perspective factors in, too—aging or dying parents, and questioning where we are in our lives, and looking at our pasts—sometimes gratefully, sometimes not so much."
Kevin Ransom is a freelance writer who covers music for AnnArbor.com. He can be reached at KevinRansom10@aol.com.