Posted on
Mon, Dec 10, 2012 : 5:24 a.m.
The Klezmatics bringing their unique twist on traditional sounds to The Ark
By Kevin Ransom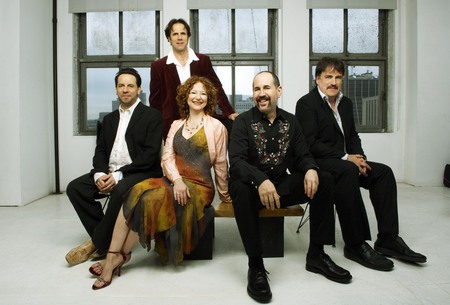 photo by Joshua Kessler
You have to love a band whose members have such a strong sense of history that they originally formed the group to preserve and revive the traditional folk music of their Eastern European ancestors—but who also have the sort of ironic, post-modern sense of humor that prompts them to release albums with titles like "Rhythm & Jews" and "Jews With Horns."
And that's the Klezmatics: Musicians with scarifying instrumental chops who have a deep understanding of, and affinity for, traditional klezmer music—but bring a contemporary sensibility to the music, and merge it with other styles. Like, for example, the sometimes dissonant saxophone skronks inspired by the New York's avant-jazz scene.
Indeed, over the last 26 years, the Klezmatics have been credited with not only reviving klezmer music, but also bringing it into the present. And they've done that not just by adding jazz to the mix, but also various world-music styles, like Middle Eastern, African, Latin, Balkan—and, sometimes, even a punk attitude.
They've also kept the music moving forward with their numerous collaborations, with everyone from classical-music icon Itzhak Perlman to the Ben Folds Five to Celt-music chanteuse Susan McKeown—as well as some posthumous "collaborations" with folk-music godfather Woody Guthrie. They released two Guthrie-themed albums in 2004 and 2006.
The first of those was "Woody Guthrie's Happy Joyous Hanukkah," which took previously unrecorded lyrics that Guthrie wrote about Jewish culture and traditions, including Hanukkah, and set them to new music written by the group.
Since the Klezmatics will be performing at The Ark on Friday, during Hanukkah, those songs will constitute a big part of that show.
PREVIEW
The Klezmatics
Who: The most popular and most acclaimed klezmer band in the U.S., The Klezmatics are credited with reviving and re-energizing klezmer music for new generations.
What: The group uses klezmer music as its foundation, but also incorporates other styles, like jazz, American folk, Middle Eastern, Latin, Balkan and African music.
Where: The Ark, 316 South Main Street.
When: Friday, 8 p.m.
How much: $30. Tickets available from The Ark box office (with no service charge); Michigan Union Ticket Office, 530 S. State St.; Herb David Guitar Studio, 302 E. Liberty St.; or online from MUTO.
(Their second Guthrie project "Wonderwheel," was similar, in that they also set newly-discovered Guthrie lyrics—which he wrote later in his life, while living in Brooklyn—to their own, new music.)
The group released a rousing, celebratory live album, the 2-CD set, "Live at Town Hall" in 2011, and also were the subject of a documentary, "On Holy Ground" that was released in 2010. And Lorin Sklamberg—the Klezmatics lead singer (who also plays accordion, guitar and piano)—says they're currently writing and developing new material for some new projects.
"We'll be doing some shows in New York in the spring that will debut more new music we wrote to Woody's lyrics, as well as some new instrumental dance tunes," says Sklamberg by phone from his home in New York City, where the group was founded and has been based for 26 years. "We'll also be writing some new music that will be a collaboration with YIVO and the Warsaw Jewish Museum. "
(YIVO is the YIVO Institute for Jewish Research, which was founded in Poland in 1925 and relocated to New York in 1940, and is devoted to preserving, studying and teaching the cultural history of Jewish life throughout Eastern Europe, Germany and Russia.)
"The music will accompany home movies that were made by Jews who moved from Europe to the U.S. in the early 20th century, but went back to Europe between the wars, to visit relatives and see their hometowns and shtetls, and they documented it all with these home movies."
In addition to Sklamberg, the core Klezmatics are Frank London (trumpet, keyboards, vocals), Paul Morrissett (bass, tsimbl, vocals), Matt Darriau (kaval, clarinet, saxophone, vocals), Lisa Gutkin (violin, vocals) and Richie Barshay (percussion).
The "Live at Town Hall" concert, though it was released last year, was actually a recording of a 2006 show that celebrated the group's 20th anniversary. They were joined onstage by various special guests, including previous band members David Krakauer and Margot Leverett and recent collaborators like McKeown and kosher gospel singer Joshua Nelson. The set list was wide-ranging, drawing from the group's early days right on up through the Guthrie adaptations.
"That was a wonderful experience," recalls Sklamberg. "That was a big milestone for us, at the time, reaching our 20-year anniversary, and gave us a huge sense of accomplishment. It seemed like a good time to survey our past as well as our present, but looking back on it now, it's also sort of bittersweet, because some of the folks who were in attendance that night have since passed on."
One of those was Adrienne Cooper, a singer, teacher and curator of Yiddish music who was instrumental in helping to keep the Yiddish language alive for younger generations. "She who was a great mentor to us and a major influence on the group," says Sklamberg.
The "On Holy Ground" documentary, which was recently released on DVD with new footage not originally included in the theatrical release, was directed by Erik Anjou, who loved the group's music, "and was interested in finding out about our history and presenting it to a larger audience," says Sklamberg. "Most people don't know much about us other than the music, so he was interested in the history, and the high points and low points, and our backgrounds, and the challenges of keeping a band together for 25 years."
So Anjou followed the group around on and off for four years to compile footage—live performances, recording sessions, interviews with the group members, etc.
Although the Klezmatics have been hailed for re-energizing klezmer music by incorporating other elements, they didn't start out that way. In the beginning, they were mostly devoted to playing straight, traditional klezmer, and then later gradually broadened their musical palette.
"Someone at our first record label wanted to hear us take the music in new directions, like other ethnic music styles were doing in the late '80s (like Celtic, Cajun, etc.). But those traditional styles had continuous threads—they existed in countries where there was a continual evolution.
"But Yiddish music doesn't really have a homeland, where that kind of evolution was encouraged and could develop. So, it was later on that we made a conscious, deliberate effort, by using trial and error, to take this older music and stamp it with our own personalities and our other musical interests.
"We also had to become comfortable enough with the music to write in the tradition but also expand the language of the tradition. We worked on that over time, and now it is something that we intuit pretty easily. So, now, when we begin working on a piece, we know pretty quickly what's going to work and what isn't."
Kevin Ransom, a freelance writer who covers music for AnnArbor.com, has previously written about The Klezmatics for Sing Out! magazine and the Ann Arbor News. He can be reached at KevinRansom10@aol.com.