Posted on
Thu, Sep 23, 2010 : 5:51 a.m.
Knight's Steakhouse: without the smoke, better than ever
By Susan Isaacs Nisbett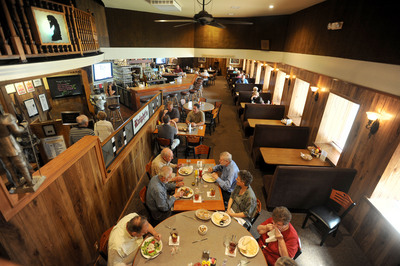 Angela J. Cesere | AnnArbor.com
Every summer for the last 32 years, our family has spent time Up North. And every summer for the last 32 years, and into the fall and winter and spring, we have lamented that Ann Arbor seemed to lack a restaurant — a comfy, easygoing restaurant, preferably wood-paneled — where the bill of fare, as suited to a random Tuesday as to a casual Saturday, was American home-style cooking of the sort we found at our fallback Up North favorite, the Crow's Nest, near Cross Village.
To be sure, for a good number of those 32 years, Ann Arbor had a restaurant, the cozy, wood-paneled, townie-in-the-know Knight's Steakhouse, that could have satisfied that craving — for meatloaf, a burger, some pork roast or a steak, a slice of pie or a square of cobbler. And, let it be said, for a well-mixed martini (for the adults) or a Shirley Temple (for the kids — like our current 20-something who still calls it her preferred cocktail). But Knight's permitted smoking, and even in its non-smoking nooks, the odor of cigarettes permeated our clothes and hair. For us, that nixed the deal.
But when Michigan's May 1 law made smoking in public places a no-no, Knight's became a yes-yes for us. The haze has lifted, and the air is fresh in this still old-fashioned place where walls, ceilings and carpets have been repainted, retiled and cleaned. While we're not forsaking the Crow's Nest and Cross Village, Dexter Avenue and Knight's are a lot closer, by several hundred miles.

Based on several recent visits, we're likely to join the ranks of regulars — like my friend Greg, whom I seem to meet there every time I go — who know good, honest food and good value.
RESTAURANT REVIEW
Knight's Steakhouse
2324 Dexter Ave., Ann Arbor
734-665-8644
Knight's in AnnArbor.com restaurant guide
Hours: 11 a.m.-11 p.m, Monday-Saturday. Closed Sunday and major holidays.
Plastic: Yes (but not Discover).
Liquor: Full bar.
Prices: Moderate — $4.95-$14 mains at lunch, $4.95-$20 at dinner, with steaks at both meals from $16.50-$31.95.
Value: Excellent.
Noise level: Moderate to high when the restaurant is hopping.
Wheelchair access: Yes.
Let's start with the meat, for which the Knight family is justly celebrated, both at its market on Spring Street at Miller and at the restaurant (and on menus of other restaurants that tout their use of Knight's beef). Steaks are not cheap at Knight's ($16.50-$31.95), but they are worth the dollars they command, from juicy prime rib and especially flavorful fillets to rich porterhouses, strips and rib steaks gorgeously caramelized outside and rosy within.
At prices from $4.95-$6.95 depending on size and toppings, the hamburgers, from Knight's fresh-ground meat, are by no means a poor-relative's alternative to steak.
Fries are great, too, as are the big bakers that are so appealing with a Knight's steak. And with that steak, or before it, may I recommend an upgrade to (or order of) my favorite salad, a retro throwback that deserves attention in Knight's excellent version? Should you see Knight's wedge of iceberg lettuce with crumbled blue cheese, thin strings of red onion, blue cheese dressing and crisp bacon on the menu (it's a recurring special), throw caloric caution to the winds and indulge.
Indulging is a big temptation at Knight's. The portions are ample, and the drinks are good (as the crowd of regulars at the centrally situated bar attest). The desire to finish the bread basket is strong (gotta love those warm, chewy, poppy seed-sprinkled rolls). The desserts we've sampled — cobblers, pies and giant ice-cream-stuffed profiteroles with fudge sauce (yum!) — merit attention, though I'd pass on the stiff, so-so lemon meringue tart.
Angela J. Cesere | AnnArbor.com
Meatloaf with mashed potatoes beckon, a special of pork roast with pierogi and sauerkraut calls. There's always fish to be had (though on a recent visit they were out of both of my fish choices and the meatloaf my husband craved), but somehow I find myself content with crisp-fried shrimp. On another occasion, the shrimp in my shrimp cocktail appetizer were large, but not, alas, the meaty beauties I'd craved, somewhat rubbery instead.
While no appetizers are needed, I found that, at least while eating for science (i.e., this review), my dining companions and I enjoyed most of the appetizers we sampled. We did awfully well by escargots wrapped in puff pastry or a rich-as-Croesus shrimp and crab Rockefeller concoction, for example.
At both lunch and dinner, an appealing revolving roster of specials livens up a menu that encompasses soups, salads, sandwiches and heartier fare. It's nice to have that full spectrum represented at both meals, just as it's nice to have the specials to look forward to. And there's a kids' menu, one that even includes "spaghetti noodles with butter," a much sought-after item when our own kids were little and would balk at the least speck of green, including the decorative sprig of parsley chefs seemed unable to resist.
There are always crowds at Knight's — reservations are a good idea — but we've learned not to be discouraged by the sea of cars in the parking lot and to wade on in, even without a reservation. The wait passes, the hosts are always pleasant, and they are willing to accommodate diners who request, say, a quiet(er) table for someone with hearing issues; the buzz can get going when the place is full. And once you're seated, the waitstaff, efficient but never overbearing, never rushes you through your meal. In pleasant weather, there's a deck out back set up for dining. It's not Up North, but the food, the casual ambiance and the people make up for it.
Susan Isaacs Nisbett is a freelance writer for AnnArbor.com.