Posted on
Thu, Jul 8, 2010 : 5:48 a.m.
Krazy Jim's Blimpy Burger: the gold standard for burger joints
By Julie Halpert
OK. I admit it. Despite the fact that I was a student at the University of Michigan and have lived in Ann Arbor for nearly 20 years, I had never eaten at Krazy Jim's Blimpy Burger.
The few times I've been tempted, long lines snaked out the door of the red awning-framed restaurant, where a giant snow bear is perched on the roof in the winter. Blimpy's has been in this spot since 1953, where it's continually received accolades from a host of local publications, and was featured on the Food Network show "Diners, Drive-Ins and Dives."
With so many new burger joints coming to town, the time seemed to be right to head to the original — and see if it lives up to all the billing.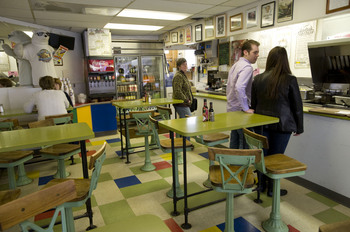 Rich Magner, who met his wife working at Blimpy's and has owned it since 1993, says the recipe for hamburger success is a simple one: "You order it, design it and watch it being cooked and then you get to eat it right away." High-quality meat, fresh ground every day, is another attraction for the six generations of Blimpy customers, he says.
I intentionally decided to go at 11:30, before the lunchtime rush, to avoid those long lines. My son, a veteran of the Blimpy's experience, warned me that if I dawdled, or didn't follow the strict ordering procedure, the cook might yell at me. But when I went, with a fellow Blimpy novice, we received only the kindest treatment from the owner. Perhaps he took pity on us as we stared, blurry-eyed at the hard-to-read menu on the wall, weighing our choices.
He explained the strict ordering process in detail. You start by deciding if you want anything grilled or deep fried, as in fries, vegetables, or items for your burger. Then, you need to select the type of bun, Kaiser, onion or pumpernickel, and how many patties you want. Since these are silver-dollar sized, you should opt for more than one. They'll only give a single to kids. I decided that a triple (three patties) would be sufficient, though my son, with a heartier appetite, went for the "quint," equal to a half-pound of meat. Once you decide on the burger size, you tell the cook which cheese you'd like, followed by the appropriate condiments. Blimpy's is one of the few "cash-only" establishments in town, so plan accordingly.
Once we got through the line with no snafus, we sat at one of the few linoleum topped tables. The interior here is sparse, simple and weathered, which adds to the rustic charm of the place. As I took a bite into the burger we ordered with mushrooms and cheddar cheese, I immediately understood the appeal. It was delicious, with beef perfectly cooked (they only prepare it one way) and soft mushrooms, served on a fresh Kaiser roll. My son's quint was mammoth, served with American cheese and nicely grilled bacon. As if that wasn't filling enough, we indulged in the thick French fried potatoes and mixed veggies, part of the "feast from the deep" category on the menu. The batter was sufficient to cover them, but not too thick or too greasy. Onion rings, thin strips covered by a small layer of batter, were a standout. All the fried fare was great paired with the cocktail dipping sauce.
Blimpy's has one option for vegetarians: the veggie burger, which was thick and nicely seasoned, though a bit dry. I enjoyed the grilled chicken sandwich as well, where tarragon offered a sweet taste. A thick, gooey, frosted brownie capped off our meal. All this food can be had for a reasonable price. A plain triple is only $3.40, $3.95 with cheese. Certain toppings are extra.
As we left, the line was already beginning to form outside the door. It's clear to me why Blimpy Burger has had such a long-lasting, loyal following. I doubt that's likely to change.
Julie Halpert reviews restaurants for AnnArbor.com.