Posted on
Mon, Sep 17, 2012 : 10:20 a.m.
Concordia exhibit celebrates the art of movie posters
By John Carlos Cantu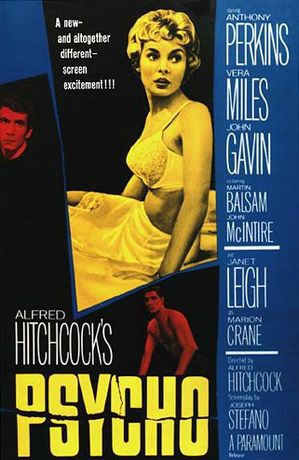 If, as the old saying goes, a picture is worth a thousand words, then the art at Concordia University's Kreft Center Art Gallery is worth millions—of dollars.
At the least, the Kreft Center's "Scene Stealers: Movie Posters as Art" represent millions of box-office dollars as the posters, lobby cards, photographs, daybills, inserts, and other movie memorabilia on display certainly contributed to the financial success of their respective films.
This colorful exhibit curated by Concordia University Professors Timothy Pies and Beth Steinkellner devoted to the golden years of Hollywood is therefore spectacularly successful.
As their "Scene Stealers'" gallery statement tells us, the exhibit illustrates movie posters' "ability to reflect cultural values while satisfying aesthetic criteria, including the ability to communicate graphically.
"Through a collection of vintage movie posters and corresponding film clips, the exhibit explores a significant intersection of popular culture and artistic value."
Well—does it ever.
This sort of commerce as art and art as commerce includes samples from a clutch of classic films like "Titanic," "The Poseidon Adventure," "Raiders of the Lost Ark," "Goldfinger," "House of Wax," "Rear Window," "Psycho," "The Day the Earth Stood Still," "20,000 Leagues Under the Sea," "It's a Wonderful Life," "The Wizard of Oz," "The Godfather," and "Barbarella."
Theater lobby and frontage paraphernalia is (and has always been) one of the more inexpensive forms of advertising in the business of theatrical advertising.
It's also one of the most potent cost-effective forms of advertising because it's meant to be largely on-site and instrumental in persuading the public to spend its entertainment dollars at the last point of contact.
It all depends on the look. Film distributors thus carefully craft these artworks to create the precise right impression. And this fact, as "Scene Stealers" keenly illustrates, is why movie posters are instrumental to any film's commercial success.
As such, one of the most intriguing aspects of the exhibit—as well as one of the most telling—is a series of 1930s through 1950s 11x17" posters that contrast graphically with later 20th century 30x40" posters. Among these earlier posters are "Gulliver's Travels," "Mr. Bug Goes to Town," "A Night at the Opera," and "Cinderella." Each design is text-heavy compared to the later flamboyant posters that rely on eye-catching imagery.
Still, there's more sameness than difference to all these posters. They share a common strategy wherein the film's title is placed prominently near the center of the design, with an emphasis on an intriguing tagline that references the movie's plot in conjunction with a mention of its lead talent.
Yet sometimes playing against type works, too.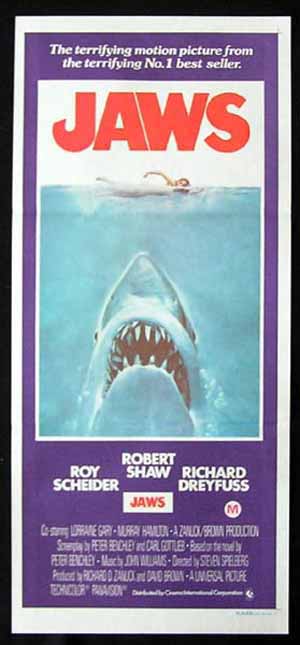 As 1975's spectacular "Jaws" poster shows us, this advertising campaign's strategy was instrumental to the film's success by viscerally referring to its story. The movie's great white shark is depicted menacingly zooming toward an unknowing young female swimmer, and what happens next is left to one's imagination—as well as the film's first gripping sequence. It's a memorable sight that's now become part of our popular culture.
On the other hand, Walt Disney's 1940 "Pinocchio" poster prominently features the young lovable puppet accompanied by his pint-sized companion, Jiminy Cricket. The poster's characterization of the puppet is colorful; emphasizing his red cheeks and ready, innocent smile. With a whimsical red and green decorative font aiming directly at the younger set, the cartoon implicitly promises a wholesome, if not also dramatically challenging, fantasy.
By contrast, Alfred Hitchcock's 1960 "Psycho" doesn't promise whimsy in the least. With Janet Leigh prominently featured with ambiguous, smaller portraits of suspects Anthony Perkins and John Gavin surrounding her, the film instead offers intrigue. Promising "a new—and altogether different—film excitement," the movie's jagged title tells its public all it needs to know.
"Scene Stealers" is filled with a score such memorable images. Its distinctive artistry reflects a cultural richness that will trigger memories in virtually all its visitors. Thus perhaps its most canny gambit is five television monitors featuring movies representing the classic posters at hand.
Depending on when the exhibit is visited, one can see "The Day the Earth Stood Still," "Jaws," "Pinocchio," "Psycho" and "Titanic" or "Barbarella," "Jurassic Park," "Rear Window," "Vertigo," and 1953's "The War of the Worlds."
This selection of film clips is clever enough for us to want to watch until the scene depicted in the posters passes us by. It's a timely reminder that advertising is rarely more pleasurable, nor more captivating. And at the least, it's enough to make you want to say hurray for Hollywood.
"Scene Stealers: Movie Posters as Art" will continue through Sept. 30 at the Kreft Center Gallery at Concordia University, 4090 Geddes Road. Gallery hours are noon-4 p.m. Tuesday-Friday; and 1-5 p.m. Saturday-Sunday. For information, call 734-995-4612.