Posted on
Fri, May 27, 2011 : 10:56 a.m.
'Kung Fu Panda 2' packs a pleasing punch
By AnnArbor.com Freelance Journalist
Kung Fu Panda opens today in wide release. Review by Jeff Meyers of the Metro Times. Grade: B+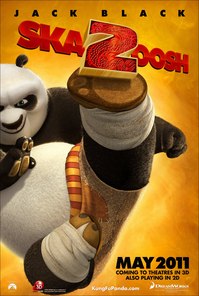 Who'd a thunk it? May is nearly wrapped up and my favorite tentpole flick so far stars
Jack Black
. Though I've always had a soft spot for the comic actor, the last few years have been a wasteland of desperate and decidedly unfunny star vehicles, each more dire than the last. 2008's
Kung Fu Panda
was the shining exception, a sweet-natured, rambunctious, and beautifully crafted film that made terrific use of Black's self-deprecating talents while elevating Dreamworks' stature as a CG animation house. The sequel, if you can believe it, builds on and deepens those virtues.
Though not quite as fresh or whimsically funny as the original, Jennifer Yuh Nelson's fleet-footed follow up trades giddy yucks for heart and character, all while dazzling us with exquisitely rendered images and delirious action scenes.