Posted on
Wed, Jan 30, 2013 : 10:52 a.m.
Kuroshio offers upscale Japanese dining experience
By Julie Halpert
Joseph Tobianski | AnnArbor.com
It's hard to recognize the former Champion House space after the makeover that its new owners,
Kenneth and Grace Wang
, provided. The new restaurant, called
Kuroshio
, opened Dec. 28.
The Wangs transformed the dingy atmosphere, taking out well-worn and stained carpet and installing a plush, patterned one instead. Our table, with cushy chairs, bordered a waterfall. Fresh black paint on the walls and sparkling-clean floor-to-ceiling windows add to the contemporary look. The servers all wear purple ties that match the napkins and table covers.
General manager Alan Wang, the son of the owners, says the goal is to "present the best food quality out there." He says the chefs use the freshest tuna, salmon and meats.
"We're trying to do a rather upscale service in a family friendly environment," he said, with an emphasis on buying local. The still-to-debut beer and wine list promises some unique offerings, including shochu, a liqueur from Japan.
Kuroshio has an expansive menu. In addition to the typical sushi, sashimi, vegetable tempura and salmon teriyaki, there's a large variety of fish and beef dishes.
RESTAURANT REVIEW
Kuroshio
120 E. Liberty St., Ann Arbor
734-929-2271
kuroshiorestaurant.com/
Hours: Sunday, 4-9 p.m.; Monday-Wednesday, 4-10 p.m.; Thursday-Saturday, 4-11 p.m.
Plastic: Visa, Mastercard, American Express, Discover.
Liquor: Not yet, though a liquor license is in process.
Prices: Expensive.
Noise level: Quiet
Wheelchair access: Yes
Kuroshio is clearly aiming for a luxurious dining experience, evidenced by the preponderance of servers milling about. One took our order, another constantly refilled our water glasses, while a third delivered our food. One our second visit, three servers followed one another, procession-style, to deliver our entrees. While in some respects it felt like they were making a fuss over us, I'm not certain our experiences supported the adage that more is better.
On both our visits, dinner started with a complimentary serving of edamame. We tried two of the flowering teas. A ball of different types of tea leaves and stems hand bound together bloom into a flower when steeped in hot water. I slightly preferred the more mild shooting star classic, which was a green tea, to the jasmine lover classic, or white jasmine tea, though both were quite good.
Appetizers were excellent, even better than some of the main courses. The soft-shell crab had a sweet, crispy exterior surrounding the meaty insides. It was coated in a tomato sauce, melding the tastes of barbecue with cocktail sauce.
The yellowtail carpaccio was presented beautifully: several triangular slivers were topped with mango and a jalapeno pepper that made the dish especially spicy. The ponzu and plum sauce provided the perfect accent to the wonderful, fresh fish.
One of my favorite dishes was the spicy tuna avocado appetizer. Layers of sliced cucumber, avocado and tender tuna were served artfully in a martini glass. The flavors combined perfectly with a spicy sauce. The ingredients were so fresh and dense, I could easily have made this my main dish.
The pork gyoza were also wonderful, just lightly fried, but each one was so tiny, there were barely enough to share.
Two of the main courses we tried left me wanting more. While the grilled sea bass that my husband ordered was fresh and flavorful with a tasty white miso, the zucchini, onion and broccoli that came with it were bland. And it was far from hearty; simply adding some rice would have helped. My husband left hungry the second visit as well, when he ordered another light dish, the sake oyakodon. This dish paired raw salmon on moist rice with an egg omelet. A tricky combination, it could have benefited from a sauce to tie the elements of the dish together.
The filet mignon was moist, flavorful and tender, with a wasabi sauce that worked well on the meat. It was served with delicious, creamy mashed potatoes.
There is a large array of sushi here, and all of it that we ordered was fresh, including the tofu roll and the California roll. I decided to also try the most expensive roll, the Venice roll, which was $21 and considered the chef's specialty. It combined snow crab and tuna avocado crunch in a slightly spicy sauce with a seaweed accent. This was tasty, but with only eight pieces to an order, I would argue it wasn't worth the money. I've had less expensive sushi at other establishments in the area that is as good or better than what's offered here.
For dessert, we most enjoyed the tempura bananas and the mochi, especially the green tea and mango flavors. Tiramisu is reportedly prepared in house, and while it tasted fine, there were parts of it that were frozen, as if it had been recently defrosted. In an attempt to present an artful scoop of ice cream, the chef used a phyllo dough crust, which didn't add much.
Though the many servers were frequent visitors to our table, the multi-server system didn't work well on our first visit when the restaurant had some traffic. Dishes came out piecemeal, as they were ready. That meant one appetizer followed quite a while after the first. I ended up starting on my main course because my husband's took so long, and the salad arrived after the main course. When the server brought the check, he said they decided to give us our ice cream free, apologizing for the mediocre service. "Please come again," he said. "We're ironing out the kinks."
Indeed, some of those kinks seemed to be ironed out by our second visit, when our food arrived within a reasonable amount of time.
In its ambiance, elaborate, attentive service, presentation of the entrees and price, Kuroshio is aiming to be a high-end Japanese restaurant. Many of the entrees are $24 and higher, with the majority of sushi rolls at $15. And while many of the dishes are very good, I'm not certain they merit the higher prices.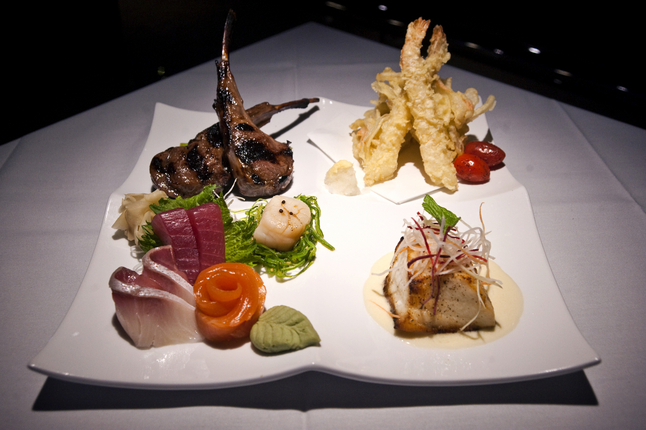 Joseph Tobianski | AnnArbor.com
Julie Halpert reviews restaurants for AnnArbor.com.