Posted on
Wed, Oct 26, 2011 : 5:09 a.m.
La Marsa a worthwhile new arrival for classic Middle Eastern fare
By Julie Halpert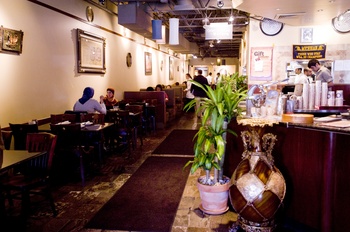 Joe Tobianski | AnnArbor.com
Though Ann Arbor has had more than its share of Mediterranean restaurants, many of which haven't lasted, that didn't deter the owners of La Marsa, which opened on Aug. 10. Manager Aziz Mushlahi believes it will fare well because of a focus on superior quality meats and some Egyptian dishes "that are hard to find anywhere else."
Indeed, the restaurant seems to have struck a chord, as it was jam-packed on both our recent visits. La Marsa takes over the space occupied by Cosi, and the basic structure remains the same: a long, deep interior with tables that line the walls on the left. The same brick oven is there as well. The lighting is low and understated, and the butterscotch wall color lends a warm feel.
Our first meal got off to a nice start with a hearty lentil soup, which had a thick consistency and vivid taste. We enjoyed the starter sampler, which includes hefty portions of baba ghannooj, hommous and tabbouli. Lemon, garlic and tahini melded well with the eggplant in the slightly spicy baba ghannooj, which was delicious when spread on the hot, puffy pita squares. Hommous was thick and creamy.
However, the tabbouli was too heavy on the parsley for my taste, so much so that it tasted bland. That same problem was evident in the mjadra sandwich, which was basically nondescript lentil beans stuffed in a pita without any sauce to provide flavor.
Both the village salad and fattoush salad consisted of fresh, crispy greens and juicy tomatoes. The salad was tossed with the perfect amount of light house dressing, made with lemon juice, vinegar, garlic, sumac, mint and oil.
My daughter, hardly an adventurous diner, opted for the cheese quesadilla appetizer, which suggested this place is less adept at conventional appetizer fare. It was bland, with a small layer of cheese, served on pita.

I was impressed that La Marsa offers three different salmon dishes, not something I typically see on the menu at a Middle Eastern place. But my experience with the salmon ghlaba wasn't pleasant. The salmon was dry and clearly not fresh, and the vegetables were in a bitter-tasting tomato sauce, not one that I would pair with salmon.
We were similarly disappointed with the mousaka, an Egyptian version of the Greek dish. Though I enjoyed the sauce, the chicken was overcooked and dry. A rim of oil surrounded the plate. Grape leaves also were mediocre, with a bitter taste.
RESTAURANT REVIEW
La Marsa
301 S. State St., Ann Arbor
734-622-0200
lamarsacuisine.com/


Hours: Sunday-Thursday, 10 a.m.-10 p.m.; Friday and Saturday, 10:30 a.m.-11 p.m.


Plastic: Visa, Mastercard, American Express, Discover.


Liquor: No.


Prices: Inexpensive to moderate. Sandwiches are $4.50. Entrees are in the $16 range, but include choice of fries or rice and soup or salad.


Value: Excellent.


Noise level: Moderate.


Wheelchair access: Yes.
The standouts here were more traditional Middle Eastern dishes, like the delicious, slightly spicy shrimp in the shrimp kabob as well as the lamb kabob, which featured tender lamb surrounded by a wonderful sauce.
The chicken in the chicken shawarma was moist, paired with an excellent garlic sauce. The falafel was also first-rate. Fava beans lent an interesting flavor.
Baklava was a great sweet ending to our meal. It was just the right consistency, with an appealing, crumbly cookie texture. The Egyptian dessert, omo ali, provided adventure for the taste buds, with a flavor I've never tasted before. The ingredients of French bread, sour cream, honey and mixed nuts made for a unique-tasting treat, resembling a soupy bread pudding.

Though the pace of service was fine, dishes came out piecemeal, as they were ready. That meant on our second visit that our appetizer appeared long after we finished our main course, and one person received a meal while the rest had to wait. I would hope the restaurant staff will improve their timing to avoid this situation.
Julie Halpert reviews restaurants for AnnArbor.com.