Posted on
Tue, Jul 23, 2013 : 12:52 p.m.
Lady Sunshine and her band make the summer even hotter at Guy Hollerin's Saturday night
By Roger LeLievre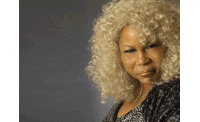 Ann Arbor-based blues singer Lady Sunshine, who always draws a crowd when she and her X Band perform, brings her lively show to
Guy Hollerin's
Saturday night.
Born on a plantation near the Mississippi Delta in Arkansas, Lady Sunshine moved to Ann Arbor in 1975 and began performing blues, R&B, gospel, soul and jazz professionally, with a sound reminiscent of the great Stax-Volt record label legacy.
Lady Sunshine and The X-band won the Detroit Blues Challenge last October and competed earlier this year in the International Blues Challenge in Memphis. Alas, they did not win, proving that whoever judged the show clearly knew very little about great music.
The band's rhythm sections includes ('Slick') Rick Humesky on guitar, Michael Scott on drums and 'Smokin'Joe Aranda on bass. The horn section consists of Patricio Padilla, David Maki II and Ken Ferry.
As if this summer needed to get any hotter, right?
Lady Sunshine and her X Band play the Local Blues Local Brews series at Guy Hollerin's, 3600 Plymouth Road, Saturday, July 27 at 8 p.m. Admission is $5.