Posted on
Wed, Mar 31, 2010 : 11:47 a.m.
Lang Lang, Schleswig-Holstein Festival Orchestra presenting Prokofiev, Brahms
By Susan Isaacs Nisbett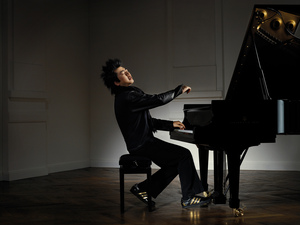 photo by Detlef Schneider
Here's a fact to ponder: At 27, the pianist Lang Lang would be too old to play with the orchestra he solos with at Hill Auditorium on Wednesday, April 7.
Twenty-six is the age limit for the Schleswig-Holstein Festival Orchestra, a crackerjack ensemble founded by Leonard Bernstein and modeled on the Tanglewood Festival Orchestra.
Selected at auditions around the world, its members — 100 selected from 1,200 applicants — benefit from mentorship by esteemed conductors like Christoph Eschenbach, a former director of the Schleswig-Holstein Festival who leads the group in its University Musical Society appearance here and who has been at the helm in U.S. dates that have included a well-received concert at New York's Carnegie Hall.
PREVIEW
Schleswig-Holstein Festival Orchestra
Who: Christoph Eschenbach, conductor; with Lang Lang, piano.
What: Prokofiev and Brahms.
When: Wednesday, April 7, 8 p.m.
Where: Hill Auditorium, 825 North University Avenue.
How much: $10-$75, available from the UMS Ticket Office in the Michigan League, 734-764-2538, and online at the UMS web site.
Eschenbach, 71, is a pianist as well as a conductor, and he has been a mentor to pianist Lang Lang, too. Eschenbach, Lang Lang said in an interview a few years back, is one of the people whose ear he counts on for counsel.
So excellent reviews of their joint New York appearance aside, it should be gratifying to hear the 2 together. The vehicle is the Prokofiev Piano Concerto No. 3 in C Major, Op. 26, a brilliant virtuoso piece for piano and orchestra whose technical demands should be child's play for Lang Lang. For an idea of the youthful exuberance and excitement Lang Lang may bring to the work this week, check out this YouTube clip, where he talks about, demonstrates and plays a section of the piece. I'd say more, but it's much more fun just to watch:
The concerto is not the only Prokofiev on the bill. The composer's Symphony No. 1 in D Major, Op. 25 ("Classical"), opens the program for an all-Prokofiev first half that should be charming, witty, thrilling and diverse. Listen to an excerpt of the Schleswig-Holstein Festival Orchestra's Prokofiev Piano Concerto No. 3 in C Major, Op. 26 (MP3).
The 2nd half of the evening turns back to the 19th century, with Brahms' Symphony No. 2 in D Major, Op. 73, a work of tranquil mood and general cheer that should send listeners back out into the 21st century in bright spirits.
Susan Isaacs Nisbett is a free-lance writer who covers classical music and dance for AnnArbor.com.