Posted on
Tue, Apr 19, 2011 : 2:29 p.m.
Larry the Cable Guy spends an afternoon at Miles of Golf
By Jenn McKee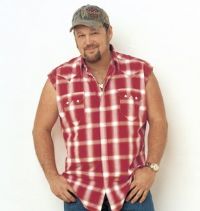 Daniel Lawrence Whitney — the comedian better known as Larry the Cable Guy — was passing through the Washtenaw area on Monday, on his way to do a comedy show in Canada, and he'd planned to play golf at Ann Arbor's Travis Pointe Country Club.
But a mid-April Michigan snowstorm didn't allow Whitney to, well, "git-r-done." So instead, he ended up at Pittsfield Township's Miles of Golf with a friend Monday afternoon.
"He was just hitting some golf balls and shopping around a little bit," said club fitter Ryan Johnson.
"He just came in like a normal person," said club fitter and assistant shop manager Pete Smith. "Just as I was heading out to a fitting, I recognized him and stopped."
Smith noted that Whitney had recently become friends with PGA Tour player Boo Weekley, and that this was "motivating (Whitney) to get better at his game."
Though it wasn't clear what project Whitney would be doing in Canada, he did mention to Smith that his "television show is done for time being, but that it had been picked up for another 13 episodes." Presumably, he was referring to "Only in America with Larry the Cable Guy" on the History Channel, which features the comedian trying on different lifestyles, jobs and hobbies in different areas of the country. The new series premiered in February.
Whitney and a friend hit golf balls and shopped at Miles of Golf from about 1-4 p.m. on Monday. "They were just killing time, basically," said Smith.
Jenn McKee is the entertainment digital journalist for AnnArbor.com. Reach her at jennmckee@annarbor.com or 734-623-2546, and follow her on Twitter @jennmckee.