Posted on
Sat, Nov 19, 2011 : 11:56 a.m.
Latest 'Twilight' full of padding and melodrama - and fans won't care
By AnnArbor.com Staff
Twilight Saga: Breaking Dawn — Part 1
Now showing at Rave, Quality 16, Brighton
Review by Jeff Meyers of the Metro Times
Grade: C-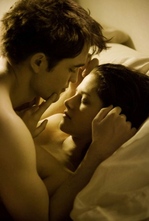 Remember back in elementary school when you'd pad your book reports with the word "very"? "Twilight: Breaking Dawn — Part 1" is a lot like that. Only here, the teacher (in this case, the studio) returned the book report (script) and asked the writer to add a whole lot of padding (pauses, sighs, montages). Why? Because that would allow one film to become two, and "Twi-hards" could get greedily soaked for twice the price.
Read the full review here