Posted on
Sat, Jan 8, 2011 : 8:43 a.m.
Laurie Anderson and UMS bring 'Delusion' to Ann Arbor
By Jenn McKee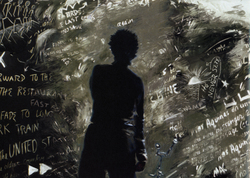 It's strangely reassuring to know that even legendary performance artist Laurie Anderson, who was way ahead of the curve in terms of integrating technology into her multimedia stage shows, grows frustrated with the machines that now rule our daily lives.
"Right now, somebody's here trying to fix a problem with our computer," said Anderson (who also doesn't do e-mail interviews). "It makes me so angry. But it's just, that's the way it is. I would love to jump off the grid and be able to get lost again. But we'll never be able to get lost again. I find that sad."
Anderson brings her newest show, "Delusion," to Ann Arbor January 14-15, courtesy of the University Musical Society.
One thing that's always set Anderson apart, of course, is her exploration of various art forms. Though she studied sculpture in college, and works in other forms of visual art (including photography and filmmaking), she also writes and performs her own music (on violin and keyboards) in her shows, and writes and performs the monologues, as well as other written work.
"I don't feel restrained to do one thing or another," said Anderson. "I never decided what I was."
"Delusion" is, in one sense, a collection of some of Anderson's most vivid dreams; but the content really started coming together when Anderson was invited to Princeton University to write plays.
"I didn't know how to write plays," said Anderson. "But I did get a lot of stories together, and those were the basis for the 20 stories I'm using in 'Delusion,' with some back-and-forth between these two voices."
A previous project of Anderson's that involved her dream life is the book "Night Life," which was a product of a time when she was on the road, touring.
"It's almost like my mind had to go haywire at night then, because I was forced to do these repetitive tasks day after day, and say the same things over and over," said Anderson. "My dreams were just insane then, full of singing squirrels, on and on, and I'm sure this was my mind acting out of self-defense. But it really helped me a lot. So I used that. Not that art should be therapy, … but you can still do something with that imagery."
Much of Anderson's work, including her previous show "Homeland," has a strong political bent, but with "Delusion," Anderson claims she was "lulled into" going in a more personal direction.
"I wrote 'Homeland' during the Bush era," said Anderson. "I tend to write about politics when conservatives are in power, but now, I don't quite know who's in power. It's a little bit worrying. But I did start this project in an era when I wasn't worrying about (the political landscape) every day, so I'm taking a little break."
This turn inward also coincided with Anderson's 63rd birthday, when she started thinking about how, because she sleeps about 8 hours a day, she'd now slept for a total of 21 years.
PREVIEW
Who: Laurie Anderson, presented by UMS.
What: Multimedia show that combines poetry, music, images and technology to convey a series of Anderson's dreams, which explore longing, memory, and identity.
Where: Power Center, 121 Fletcher Street.
When: Friday-Saturday, January 14-15, at 8 p.m. (Anderson will also appear as part of the Penny Stamps Distinguished Visitors Series on Thursday, January 13 at 5:10 p.m. at the Michigan Theater; this talk is free.)
How much: $18-$52. Tickets available by phone at 734-764-2538, online at the UMS website, or in person at the Michigan League Ticket Office, 911 North University Avenue.
"Like everybody, I've always been interested in that (dream) world," said Anderson. "It's such a bizarre part of your mind that sometimes you think you'll never understand it. On the other hand, it's an entertaining part of the mind. I love dreaming. I'm sure you could ask most artists about the source of their inspiration, and they'll say, 'Dreams.' … Because they really do make you realize that you're crazy."
"Delusion" premiered in Vancouver early this year, while the Olympics were happening. Since then, Anderson has removed a few references that are no longer timely, and made other adjustments and additions to the show. But the dreams remain.
"I don't try to analyze them," said Anderson. "There's no theory out there that makes sense, actually. We've had 100,000 years as a storytelling people, and we still have no idea why we dream."
Anderson will also appear as part of the Penny Stamps Distinguished Visitors Series on Thursday, January 13 at 5:10 p.m. at the Michigan Theater; this talk is free and open to the public.
Here's a video with highlights from "Delusion":