Posted on
Fri, Nov 9, 2012 : 5:35 a.m.
Leading DJs, including Richie Hawtin, to spin the history, future of electronic dance music at Necto
By Roger LeLievre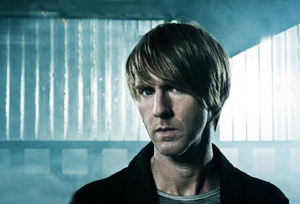 Richie Hawtin, a pioneer in the field of electronic dance music, will mix music and education Wednesday with a seminar and performance at
Necto
nightclub in Ann Arbor.
"He's a legend, said Necto's Christine Kitora. "If there was an electronic music hall of fame, we know Richie Hawtin's name would be in it."
The local events are part of Hawtin's "CNTRL" music and technology tour of 15 U.S. and Canadian colleges that's been mounted to explore the roots of the genre and demonstrate what the future of music technology and performance has the power to become. The seminar, which takes place in the late afternoon, had originally been scheduled for the University of Michigan but has been moved to Necto due to high demand, Kitora said.
Hawtin will be joined by DJs Loco Dice, Seth Troxler and Ean Golden. The seminar will look at electronic dance music's past, present and future, with a focus on new technology. The later presentation will offer participants the chance to show off their DJ skills.
"There's a lot of new technology that's going to be introduced," Kitora, marketing and events director at Necto said of the seminar, which is sponsored in part by Dubspot, an electronic music production and DJ school in New York City.
PREVIEW
Richie Hawtin
Who: Pioneering techno DJ with Detroit connections. DJs Loco Dice, Seth Troxler and Ean Golden are also featured.
What: Electronic dance music, with an educational component.
Where: Necto nightclub, 516 E. Liberty St.
When: 9 p.m. Wednesday (18 and over).
How much: $15-$25. Tickets available online Info: 734-994-5835.
Also: Master Class Seminar, 5 p.m. Wednesday. Interested students sign up at goo.gl/qVf2b. Must have an .edu e-mail account. Non-students contact voltage@thenecto.com to be placed on a wait list.
"People who want to produce electronic music or people who are interested in electronic music, this is definitely going to be a nice treat for them," Kitora said. "More and more people are producing this music at homes and in their basements. Going to seminars like this gives them more insight on how to make great sounds and great music."
Hawtin, who grew up in Windsor and now lives in Germany, was an influential part of Detroit techno's wave of artists in the early 1990s and a leading exponent of minimal techno since the mid 1990s. He is best known for his work under the alias Plastikman and as the co-founder of the Plus 8 record label.
Topics for the CNTRL seminar include using technology to control creativity, old-school DJ-ing with modern technology, the importance of sound quality and digital DJ-ing and controllerism. Detroit techno pioneer Kevin Saunderson is also expected to take part in the educational sessions.
"Old and young will come to this. His music transcends," Kitora said of Hawtin.