calendar of events
happening today:

Learn something new at the ReSkilling Festival or go antiquing

Posted on Sun, Jul 15, 2012 : 5:47 a.m.
ANTIQUES
The Ann Arbor Antique Market Days have returned to the Washtenaw Farm Council Grounds. 10 a.m.-4 p.m. Find unique items in a comfortable atmosphere. $6. Free parking. The next market days will be held Aug. 18-19. The brounds are located at 5055 Ann Arbor-Saline Road, Ann Arbor. 734-429-3145.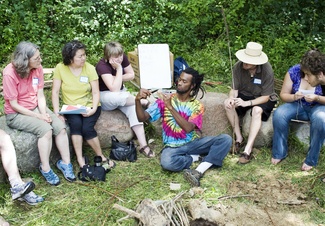 Eric Bronson | For AnnArbor.com
ETC
.
The Ann Arbor ReSkilling Festival at the Rudolf Steiner of Ann Arbor High School is a great opportunity to learn something useful. 10 a.m.-5 p.m. Doors open at 9:30 a.m. Learn skills for resilient, low-energy living — including fire starting, meditation, perspective drawing and starting a garden.Check the website for full schedule and to pre-register for sessions: http://a2reskilling.com/. Some sessions have small fee. The RSHS is at 2230 Pontiac Trail, Ann Arbor. 734-669-9394.
ARCHITECTURE
The Ann Arbor Architectural Tour 2012 Season in downtown Ann Arbor. 1 and 3 p.m. This 75-minute outside walking tour starts and ends at the corner of East Liberty and Maynard, across from Biggby Coffee and features 10+ landmarks, including Nickels Arcade, Hatcher Graduate Library and Burton Memorial Tower. The guide will be Jacob Jabkiewicz. Weather permitting. $12. No charge for children 5 and younger.
FILM
The Summer Classic Film Series continues at the Michigan Theater with the terrific "To Kill a Mockingbird." Today at 1:30 p.m. Encore screening on Tuesday at 7 p.m. The 1962 classic is an adaptation of Harper Lee's novel, about the fallout from the arrest of a black man wrongly jailed in the South. Gregory Peck won the Oscar for Best Actor. General admission: $10. Students, seniors: $8. Michigan Theater members: $7.50. The theater is at 603 E. Liberty St., Ann Arbor. 734-668-8397.