Posted on
Thu, Nov 29, 2012 : 5:08 a.m.
Re-live 'Star Trek: The Next Generation' or take in some live poetry today
By Ann Dwyer
LECTURE
The Penny Stamps Speaker Series continues at the Michigan Theater. 5:10 p.m. Artist Janine Antoni will talk about being "At Home in the Body." Transforming everyday activities such as eating, bathing, and sleeping into art, Antoni's primary tool has always been her own body. She has chiseled cubes of lard and chocolate with her teeth and used the brainwave signals recorded while she dreamed at night as a pattern for weaving a blanket the following morning. Free. 603 E. Liberty St., Ann Arbor. 734-668-8397.
POETRY
Four-time National Poetry Slam Champion Particia Smith will be joined by New York poet, musician and artist, Shira Erlichman at "Poetry Night in Ann Arbor" at Rackham Auditorium. 7 p.m. This year's version of the Neutral Zone's annual celebration of the literary arts, features Ann Arbor's high school poets sharing the stage with the terrors of dactyls, two figures of figurative language, the lovely ladies of lyrics. $7 students/$12 general public. 915 E. Washington St., Ann Arbor.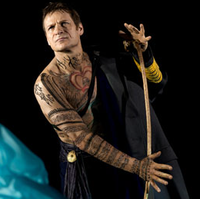 THEATER
See the Metropolitan Opera encore presentation of "The Tempest" at Quality 16. 1 p.m. This is a digital reprise of a live November broadcast of the production of Thomas Ades' adaptation of Shakespeare's freaky romance featuring wizards, spirits and nobles. $18/general. $13.50/students and children. 3686 Jackson Road, Ann Arbor. 734-623-7469.
FILM
If pop culture is more your thing, Rave Motion Pictures will present "Star Trek: The Next Generation - A Celebration of Season 2." 7 p.m. This event will feature two of the most popular "Next Generation" episodes, "Q Who?" and "The Measure of a Man" which will include, for the very first time, about 13 minutes of never before additional content. There will also be exclusive looks behind the scenes. $12.50. 4100 Carpenter Road, Ypsilanti. 734-973-8380.