Posted on
Tue, Nov 27, 2012 : 10:14 a.m.
Guitar master Leo Kottke talks about latest projects ahead of sold-out Ark show
By Kevin Ransom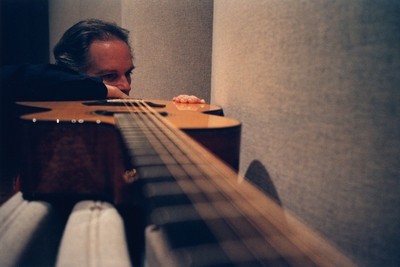 After more than 40 years as a recording artist, guitar hero
Leo Kottke
is still so musically restless and curious that he currently has four separate recording projects he wants to pursue.
One is a duo album with dobro master Jerry Douglas. The second is a collaboration with the Turtle Island String Quartet, with whom Kottke has often performed in the past, including a 2007 show in Ann Arbor.
The third is a trio album with Mike Gordon and Jon Fishman—the bassist and drummer, respectively, from Phish. That project would be an outgrowth of the two albums Kottke made with Gordon in the early-mid-2000s, 'Clone" and "Sixty-Six Steps."
And the fourth is the one that true-blue Leo fans would probably like to hear first—a solo Leo album. Kottke fans have been waiting a long time for one of those: his last solo album, "Try and Stop Me," was released in 2004. One reason for the long wait between albums is that Kottke has been pondering how best to adapt to changes in the recording industry, including the downward spiral in CD sales and the opportunities afforded by the Internet.
"And, as far as those collaboration projects go, those guys are all really busy, so it's very hard to coordinate all of our schedules," says Kottke, who brings his world-beating guitaristic gifts to The Ark on Thursday for a sold-out show.
"Jerry and I have done a lot of double bills together, so we've often played together in the dressing room before shows, and we have a really great chemistry, and it's really easy to play with him," says Kottke by phone from his home in Minneapolis. "I have an album's worth of new songs—some are strictly instrumentals, some have vocals, and they have a really good groove."
PREVIEW
Leo Kottke
Who: Iconic acoustic-guitar hero whose syncopated, high-velocity picking has been knocking audiences dead for more than 40 years.
What: A heady, exhilarating synergy of folk, country, blues, jazz and classical styles, augmented by his hilarious, stream-of-consciousness storytelling.
Where: The Ark, 316 S. Main St., Ann Arbor.
When: Thursday, 8 p.m.
How much: Sold out. For info, call 734-761-1451.
Ah, the groove. In addition to his startling technique and the mind-blowing velocity of his playing—when he feels it's called for—one of Kottke's signatures has always been his percussive, syncopated picking style. He's parlayed those talents and affinities into such infectious Kottke classics as the careening "Busted Bicycle," the propulsive "June Bug," the breathless "Vaseline Machine Gun," the cascading "Morning Is the Long Way Home," the bionic-fingered "Monkey Money" and dozens of others.
There was a time, though, when Kottke got away from that approach and began to explore a style of composing and playing that employed more jazz chordings and harmonics.
"I'd reached a point where I felt like I'd exhausted that, and that my playing wasn't spontaneous enough, and that I was sounding too much like myself," says Kottke. "I was hungry to figure out other ways to approach writing and playing, and it was more challenging, that new direction."
But in the last couple of years, he came back around to his signature sound and approach. "Once I'd gotten away from it for a while, I was ready to get back into to my 'old head,' musically," he says.
"So, some of these new pieces I've written are from that old head—but, at the same time, they're rhythmically more sophisticated. The pushes fall differently, and they feel like they're catching you wrong-footed, but it turns out to be the right foot," he says, employing one of the droll, almost abstract descriptions and turns of phrase that fans have come to expect from the stream-of-consciousness stories he tells onstage.
"Anyway, if I can coordinate my schedule with Mike and Fish, we'll probably record that album in December. If not, I'll just go out to L.A. and make the solo record first," he says. "I want to record it live, in an old theater near my engineer's house out there. I won't have a live audience, though. It would just be me, playing in the empty theater….At this point, I prefer the feel and the ambiance of a theater, compared to a recording studio."
And, the solo recording will be on DVD, not CD, he says. One of the revelations he had while spending time on the Internet is that, "After watching a lot of clips of artists I love on YouTube, I find that watching them perform tells me a lot more about the music, and what's happening inside of the music, than if I'm just listening to them."
Plus, in Kottke's case, his proficiency is so dazzling that his fans—especially other guitarists—will love being able to watch his fingers dart up and down the fretboard, and pick the strings with such breathless speed and virtuosity.
And even though he won't have an audience, just being on a stage means "that I likely won't be able to resist talking," he says. "Onstage, I'm usually not able to keep my mouth shut"—which is good news for us, because his deadpan-hilarious stories - which always make about four or five unplanned left turns before they come to one of their quizzically funny non-conclusions - are always a high point of a Kottke show.
His affinity for telling these improvised stories "comes from the same place as my musical curiosity," says Kottke. "I'm curious to find out where the story will take me. And if I lead myself down a blind alley, I'm curious to find how I'm going to get out. That's just so much fun. If I knew, when I started telling a story onstage, where it was going to take me, and how it would finish, I wouldn't tell it. That would not be interesting to me.
"And, by the time I realize where it's going, and it wraps up, it's led me to knowing what the next song will be—which I don't know when I start telling the story. So, I'd rather risk humiliating myself—and risk boring myself and the audience to death -- rather than saying nothing and not knowing that the next song is just right song to play at that moment."
Kevin Ransom, a freelance writer who covers music for AnnArbor.com, has interviewed Leo Kottke 10 times, dating back to 1991, for such publications as The Detroit News, Guitar Player and the Ann Arbor News, as well as for AnnArbor.com. He can be reached at KevinRansom10@aol.com.