Posted on
Tue, May 7, 2013 : 10:39 a.m.
Leon Redbone bringing his unique style - and some fresh songs - back to The Ark
By Kevin Ransom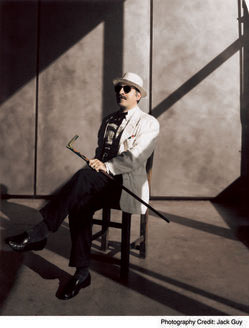 When
Leon Redbone
first came along in the mid-1970s, his laconic performances of vintage blues, jazz, ragtime, country and vaudeville songs struck some folks as campy—at least when viewed through the prism of '70s-era pop music.
But given that those vintage styles have enjoyed a big surge in popularity over the last 15 or 20 years—and given the direction that much pop music has gone in during that time—not many are so quick to affix the "camp" imprint to Redbone's music these days.
Indeed, his affinity for the music of Irving Berlin, Jelly Roll Morton, Fats Waller, Hoagy Carmichael, Jimmie Rodgers, etc., is a tonic for those who are weary of the synthetic, mechanized, computerized and / or pre-fabricated nature of so much modern-day pop music.
That's certainly true for Redbone himself. "Those older styles, from those eras, are what really captured my attention when I was young, and, to me, they're still the most valid," says Redbone, who comes to The Ark on Sunday.
"I was fortunate to be of age, and out and about, when some of those blues performers from those eras were still around and performing, and I saw many of them—Rev. Gary Davis, Sonny Terry and Brownie McGhee, the one and only Lonnie Johnson, Mance Lipscomb—as often as I could. So, that give me a pretty good insight into that style," says Redbone during a recent phone interview from the office of his manager / producer, Beryl Handler, in New Hope, Penn.
And Redbone still doesn't have much enthusiasm for contemporary music. "There is this general sense, among the mass population, that, because of technology, everything that is new is better that what came before it," he muses. "I don't agree with that at all. And if most people thought about it for a while, they might come to the same conclusion," he adds, in his usual wry manner.
"Most modern music doesn't really speak to me at all—there doesn't seem to be much heart, or much sincerity, in it. And so much of it seems so contrived. But when you go back and look at the work of someone like Irving Berlin, every one of his tunes are gems."
PREVIEW
Leon Redbone
Who: Eccentric preservationist / performer known for his deadpan, laconic delivery of vintage songs.
What: A mix of old-time blues, jazz, ragtime, vaudeville and country songs, mostly drawn from the first 30 - 40 years of the 20th century.
Where: The Ark, 316 South Main Street.
When: Sunday, May 12, 7:30 p.m.
How much: $25. Tickets available from The Ark box office (with no service charge); Michigan Union Ticket Office, 530 S. State St. or online from MUTO.
And here's some good news for Redbone fans: He's in the midst of recording a new album, which will be his first studio effort since 2001. "I've been thinking about making another album for a while, but I mostly just never got around to it," says Redbone. "I'm primarily a live performer, anyway. Sitting in a studio just almost seems too calculated for me now. I know it's supposed to be, so I try to mess that up as much as possible," he adds with a laugh.
The album will be his usual mix of vintage songs from the prewar years, but the particular song that inspired Redbone to want to get back into the studio and make a new album was Berlin's "But Where Are You?"
"It was beautifully sung in a Fred Astaire and Ginger Rogers movie ("Follow the Fleet"), by Harriet Hilliard—who went on to become Harriet Nelson, of 'Ozzie & Harriet,'" notes Redbone. "She was only 19 years old at the time. It's a wonderful song, and seeing her and hearing her do that again in that film gave me an urge to record it. I think it was one of those that Irving wrote for his departed wife."
Another notable song on the album, says his producer / manager Handler, is "Baby Won't You Please Come Home," a blues classic recorded by Bessie Smith in 1923. Redbone recorded it for an episode of HBO's "Boardwalk Empire" last season, but "we wanted to re-record it," she says.
Other songs on the disc, says Handler, include "a couple of Lee Morse tunes that have turned out very nicely so far," Jelly Roll Morton's "Mr. Jelly Lord," Isham Jones / Gus Kahn's oft-covered "I'll See You in My Dreams" and "I Wanna Go Back Again Blues," for which Redbone was backed by Vince Giordano and the Nighthawks. The recording should be completed by the end of May, but no release date has been set.
Most people over, say, 50 years old were first introduced to Redbone when he appeared on "Saturday Night Live," in 1976. Between his laconic baritone voice, droll onstage demeanor and signature look—Panama hat, dark glasses and full mustache—Redbone was an immediate hit among the college crowd.
"Yeah, that show was a catalyst for me, among a certain audience," recalls Redbone. "The audience for that show, at that time, had eccentric tastes in comedy. That show was a mini-adventure in anarchy, and I was deemed eccentric enough to fit in with what they were doing, so that did resonate with a lot of people."
And even though he has usually played relatively intimate rooms like The Ark for most of his career, Redbone continued to connect with the mass audience over the years via his pop-culture endeavors, like singing in TV ads for Chevy, Budweiser and All detergent. Not to mention his presence in several TV shows, like singing the title tunes for sitcoms like "Mr. Belvedere" and "Harry and the Hendersons," and also appearing in the "Life Goes On" TV series.
Then, in 2003, Redbone was showcased in another pop-culture project. He appeared as an animated snowman in the Will Farrell comedy, "Elf," and also sang a duet with Zooey Daschenel on the Christmas favorite, "Baby, It's Cold Outside" for that film.
"That wasn't my idea—someone associated with the film asked me to do it," says Redbone. "It was definitely a bizarre combination. I sang my part, then she came in and overdubbed her vocals. I couldn't really get a read on her. She seemed very blank. It was like she was wearing a veil. She didn't seem to have a lot of social skills."
Kevin Ransom is a freelance writer who covers music for AnnArbor.com. He can be reached at KevinRansom10@aol.com.