Posted on
Thu, Nov 4, 2010 : 5:09 a.m.
Leone's Bistro steps up to the plate as top-notch Italian dining destination
By Julie Halpert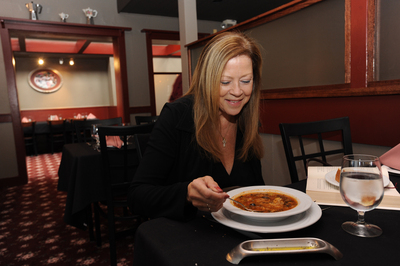 Melanie Maxwell | AnnArbor.com
Many readers have wished over the years for more first-rate, reasonably priced, Italian options in the Ann Arbor area — the kind of place you can count on for a hearty plate of spaghetti or a comforting dish of veal piccata. I am pleased to report that such a restaurant is now here. Leone's Bistro, which opened in September, satisfies the craving for traditional Italian food, offered at reasonable prices. And you can comfortably bring your family along.
Owner Greg Leone has transformed the long-vacant space that once housed the Cottage Inn Café. Though he left the structural interior essentially intact, he gave this once dismal-looking environment a big face-lift, with warm, burgundy flowered carpet, dark green walls and roomy and comfortable tables. It has a nostalgic feel reminiscent of the 1940s and 1950s. On our first visit, a piano player accompanied diners with classic songs; the second time, Frank Sinatra and show tunes bellowed from the speakers.
Leone's has a huge menu of Italian pastas, as well as fish, chicken, beef and seafood. While there are some pricey entrees, like the $39 Kobe steak (which we didn't allow my son to order), there are many pasta dishes in the $14 range. For vegetarian diners, pasta choices abound.
We got a warm start to our meal with the straccetella soup, made with a chicken broth along with spinach and egg. A fusion of Jewish chicken soup and Asian egg drop soup, it was a wonderful melding of flavors. The tomato bisque was thick, hearty and creamy, as was the cream of cauliflower, though that could have used more salt. Even basic salads didn't disappoint. The Caesar had wonderful dressing along with crunchy homemade croutons. Both the blue cheese and lobster dressings are prepared in house, and they're simply delicious.
For many dishes here, garlic is the featured ingredient. There was just the right amount in the outstanding shrimp Giusepi, where a lemon butter sauce bathed delicious shrimp. But it was applied a bit too heavy in the pasta Maria, a bland assortment of vegetables, and in the veal piccata. With a bit less garlic, this dish of tender pieces of meat would have tasted even better.
The fried chicken wings appetizer is more like a fried chicken main course. The gigantic chicken wings had an abundance of meat and very little fat, so they weren't greasy. There was a similarly generous portion of the fried eggplant, another standout.
RESTAURANT REVIEW
Leone's Bistro
2789 Washtenaw Avenue
Ypsilanti
734-434-8600
Leone's Bistro in AnnArbor.com restaurant guide
Hours: Monday through Friday, 11:30 a.m.-10 p.m.; Saturday and Sunday, 4:30 p.m.-10 p.m.
Plastic: Visa, Mastercard, American Express, Discover.
Liquor: Yes.
Prices: Moderate. Pastas range from $8.99 to $15; most meat entrees range from $17 to $33.99.
Value: Very good.
Noise Level: Quiet.
Leone's shines with the Italian basics. The spaghetti was heaped with a wonderful marinara sauce. And I enjoyed the tomato sauce in the homemade lasagna, a dense, rich dish accented with meat. With a thick, crunchy homemade crust, great tomato sauce and an ample amount of cheese, the pizza was as good as any entrée on the menu.
The only disappointment was a dish that we did not order. My husband requested a special, the "bronzini" fish, which sounded interesting. But our server brought us the steelhead instead. After we alerted him to the error, he asked if we wanted a complimentary soda to compensate for the error, an odd suggestion when you get the entrée wrong. The fish was bland and uninteresting.
For dessert, four scoops of gelato were beautifully placed in a parfait glass. I enjoyed this, but it resembled ice milk, lacking the dense, creamy texture of quality gelato. The tiramisu was wonderful, adorned with two Italian biscuits.
Our servers on both visits seemed inexperienced and a bit tentative, eager to please, but not quite knowledgeable on the menu items. Though it took a half-hour for our appetizers to be delivered on the second visit, the rest of our meal arrived quickly.
The many high quality items at Leone's, along with its graceful ambience and generally rapid service, offer it much potential. It fits the bill for that Italian restaurant many have desired.
Julie Halpert reviews restaurants for AnnArbor.com.