Posted on
Tue, Apr 9, 2013 : 10:57 a.m.
Let's Get Weird showcases local performers of all kinds in one show
By Jenn McKee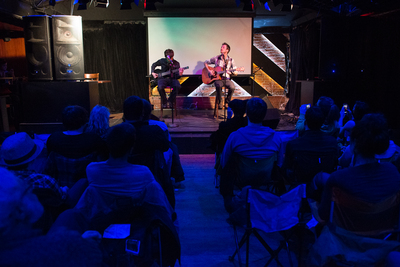 Courtney Sacco | AnnArbor.com
One act at the March edition of
Let's Get Weird
—a new, monthly, two-hour live variety show created and co-hosted by
Matthew Altruda
at
Live
nightclub—definitely lived up to the program's title.
A male performer from Brendalinda Performance Collaborative, wearing cutoffs and an apron, licked whipped cream off the cheek of an audience member; and then a woman repeatedly danced down the center aisle toward him, put her face in a whipped cream "pie" that the man just made on stage, and then returned to her starting position to do it all again.
Weird? Yes. But because the same show also featured locals performing stand-up comedy, poetry, different kinds of music, and comedy sketches and videos (among other things), "Let's Get a Taste of Lots of Different Stuff" might be a more fitting, if unwieldy, title for the five-month series. (April 13 will be the fourth installment.)
Yet the show's name, as it stands, arose in part because of the time LGW co-host and producer Luna Alexander regularly spends in Austin, Texas, where an unofficial slogan is "Keep Austin weird."
PREVIEW
Let's Get Weird
What: A two-hour, live variety show that features local artists performing theater, music, dance, poetry, stand-up comedy, etc., hosted by (series creator) Matt Altruda and Luna Alexander. April will mark the fourth installment of the five-month series.
Where: Live, 102 South First St. in Ann Arbor.
When: On the second Saturday of each month, for two more months, doors open at 7 p.m., and the show starts at 7:30 p.m., on April 13 and May 11.
How much: $5 at the door. For more information, visit treetownsound.com/fr_letsgetweirdshow.cfm, or contact Live at 734-623-1443 or www.livea2.com.
"I love that slogan—it promotes a city beautifully without taking itself too seriously," said Alexander. "Everyone knows that Austin and Ann Arbor are very similar cities, artistically and musically, so we decided to bold-facedly rip off the name and try to throw together a show with similar sentiments. Sometimes it feels like Ann Arbor has been drifting away from it's weirder roots and getting a little too serious and self-important lately. So we keep cautiously, carefully testing the limits of how weird we are going to get. Each show gets progressively weirder."
How did LGW make the transition from idea to Live's stage?
"It all got started, as so much does in Ann Arbor, in a coffee shop," said Alexander. "(Altruda) and I were catching up over our lives and we started talking about music and theater, respectively. Turns out, 'Tuna' had already been itching to do a show that threw the two together, and I'd been itching for a way to promote live performance art and comedy in Ann Arbor."
"I'm all about using the great gravitational pull of art to bring together people that want to be entertained," said Altruda. "For me personally, I always thought it be a blast to do. I love it, and it's fun for the artists, too. … (The series) has a real New York City feel to it."
It definitely has a do-it-yourself vibe, too, with different-colored folding canvas chairs—the same ones Altruda uses for the outdoor summer concert series he curates, Sonic Lunch—lined up in rows in front of Live's stage. At the March show, patrons packed the booths and tables on the left, while on the right, through a sheer black curtain, you could watch the performers interact and prepare (blowing air through a trumpet, or shimmying to music being performed on stage) in a kind of communal green room.
"Live has new owners, and they want to really open the place up to the community," said Altruda. "When we were developing this idea, I thought, we can't have it at The Ark, because they're too busy, and we can't be at The Blind Pig, because we wouldn't have enough seats."
Live's owners, however, thought LGW would be a great fit.
"One of the things that attracted me was the timing of the event," said Live co-owner Paul Drennan. "It's a weekend, early night event, which is something a lot of people find lacking. … And we were attracted by the concept itself. Matt's obviously someone who's very involved with the community, and I think we knew that if anybody could pull a vast group of local artists together, it was going to be Matt."
Even so, Alexander felt nervous about the inaugural LGW show in January. "We had no idea what to expect, how good the talent was going to be, how many people would come—anything," she said. "Variety night sounds like something you do in a church basement, not in a club, early on a Saturday night. But we had a nice, tidy little turnout."
Since then, positive word-of-mouth, paired with social-media promotion, has caused the (heavily twentysomething) crowds for each LGW to increase each month. Approximately 50 people attended the first LGW in January; 100 in February; and 150 in March.
"I tend to think of the crowd as being very townie, very artistic," said Drennan. "Not that other people aren't coming out, too, … but the early 20s crowd really doesn't have much interest in the top 40 club scene. They definitely support and appreciate what Matt's doing."
Altruda primarily handles promotion, booking musicians, logistic production issues, and venue relations for LGW, while Alexander—an EMU theater alum—lines up LGW's comedians, theater artists, and sketch comedy groups.
And because the series appears to have quickly taken root, both Altruda and Alexander are thinking about how and when to revive LGW in Ann Arbor in the future.
"I think that Let's Get Weird should become a staple of Ann Arbor living," said Alexander. "If we could do it every week, I would. I'm leaving for New York by the end of the summer, so one of my main goals is to try to find a way to keep LGW or a similar show running permanently. Call it a legacy, or paying off a debt of gratitude to all the art/music/performance that this city has given me over the years. … A city like Ann Arbor deserves to have a showcase of the arts where you can laugh, drink and have a think."
Jenn McKee is the entertainment digital journalist for AnnArbor.com. Reach her at jennmckee@annarbor.com or 734-623-2546, and follow her on Twitter @jennmckee.