Posted on
Wed, Mar 6, 2013 : 10:58 a.m.
'Let's Get Weird Variety Show' to bring local talent to the LIVE stage
By Ann Dwyer
Don't let Austin, Texas have all the fun. The Let's Get Weird Variety Show hosted by Matthew Altruda from "Tree Town Sound" on 107.1-FM aims to bring the variety and flavor of our local talent into one place to be enjoyed by all.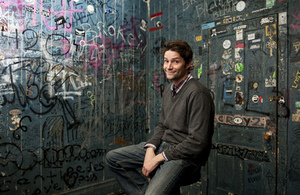 "Our goal is to bring community closer to theater, music, dance, poetry, standup and creative chaos," according to the
Tree Town Sound
website. The shows run the second Saturday of each month at Live.
The Saturday show will feature the music of Kate Peterson and Spencer Michaud with the "creative chaos" of Luna Alexander and Altruda. Sad Tire Productions writers and sketch troupers Craig Draheim, Kelsea Kerkes, James Walrod, Todd Sheets and Kerry Conniff will also be on hand along with slam poet Brittany Floyd and more.
Saturday, March 9, 2013. Doors open at 7 p.m. Show starts at 7:30 p.m. $10 in advance reserved floor seating; $5 at the door. Tickets available at http://www.treetownsound.com/. Live is at 102 S. First St., Ann Arbor. 734-623-1443.