Posted on
Thu, Jul 22, 2010 : 4:30 p.m.
Liberty Plaza yarn bombed; responsibility claimed
By Bob Needham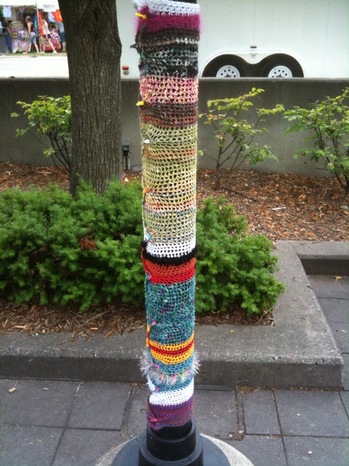 The phenomenon of "yarn bombs" —Â a good-natured sort of fiber graffiti —Â has hit the Ann Arbor Art Fairs.
Liberty Plaza, at Liberty and Division streets, today is livened up by a variety of colorful fiber pieces attached to various trees and poles in the park.
Responsibility for this act of artistry has been claimed by two "Yarnabombers" going by the names Buy Art and Cherry Luvbomb. In an email to AnnArbor.com, they explain that the "knit graffiti" concept aims to create "original knitted and crocheted artworks that are used to beautify public spaces as part of a covert scheme of world yarn domination."
In the note, they also claim responsibility for beautifying a former car dealership on Washtenaw near Huron Parkway, and trees at the Ann Arbor Farmers Market.
"The REAL Public Art Fair is now in full flower at Liberty Plaza. The evening inhabitants of the park were very positive and encouraging about our efforts to enhance their environment with knit/crochet graffiti. Buy Art and Cherry Luvbomb had a great time late in the evening of July 21 'tagging' the park and hanging with some of Tree Town's most discriminating and appreciative art enthusiasts," the note continues.
"Our abiding philosophy is that these pieces are put out for public view and comment and our enjoyment and reward comes from the public as they pass by and respond with a smile. The very nature of public art is impermanence and possibly vandalism and removal. We remain anonymous because this yarn guerrilla activity is not about us, but about an act of minor civil disobedience aimed clearly at the funny bone."
Bob Needham is director of entertainment content for AnnArbor.com. Reach him at bobneedham@annarbor.com or 734-623-2541, and follow him on Twitter @bobneedham.