Posted on
Mon, Jun 18, 2012 : 11:17 a.m.
Liberty Street to close Thursday for free Mitch Ryder concert at Sonic Lunch
By Bob Needham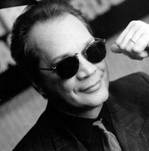 The City of Ann Arbor has announced that Liberty Street will be closed during the day on Thursday due to the large crowd expected for
Mitch Ryder
's appearance at
Sonic Lunch
.
According to a notice distributed today, barricades will close the street about 5 a.m. Thursday to begin stage setup, with the area of Liberty Street in front of Liberty Plaza, the Sonic Lunch site, closed to traffic entirely. The concert is set to take place from noon-1:30 p.m., and barricades will be removed "as quickly as possible" after the show, with a goal of reopening the street entirely by 5 p.m.
Anyone with private parking in the block will have help available, but it is requested that drivers enter and exit from South Fifth Avenue and not Division.
Sonic Lunch is a series of free Thursday lunchtime concerts in Liberty Plaza, sponsored by Bank of Ann Arbor. This year the series is bringing some unusually big names; last week saw an appearance by the rising Detroit band Dale Earnhardt Jr. Jr.
Mitch Ryder is likely to draw a large crowd this week. A true Michigan rock legend, Ryder initially made his mark fronting the Detroit Wheels in the 1960s with furiously energetic rock classics like "Devil With a Blue Dress" and "Jenny Take a Ride" that helped define the Detroit sound at the time. In the early 1970s, leading a band simply called Detroit, he recorded a cover of the Velvet Underground's "Rock and Roll" that remains a staple of album-rock radio; and in the 1980s, he enjoyed a commercial comeback with a hit cover of Prince's "When U Were Mine." He has continued to record and tour through the decades, and released a new album, "The Promise," earlier this year.
Anyone with concerns or suggestions about the street closure is asked to contact Rhonda Foxworth, vice president and marketing manager, Bank of Ann Arbor, at 734-327- 1413 or rfoxworth@boaa.com.