Posted on
Tue, Dec 4, 2012 : 5:55 a.m.
Michigan Theater-bound Lisa Lampanelli talks weight loss, the theory of 'mean' comedy
By Kevin Ransom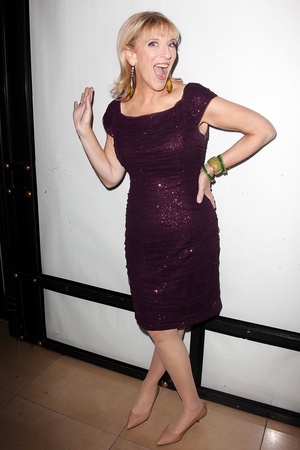 AP
If you happened to wander into a
Lisa Lampanelli
show and weren't already familiar with her work—or hadn't read any interviews with her—you might not get the joke right away.
You would hear what, at first blush, might sound like racist / homophobic jokes, aimed at blacks, Hispanics, Jews, Asians, gays, etc. But, what Lampanelli is really engaged in is satire: She is satirizing / mocking these stereotypes, and those who are ignorant enough to believe them. In a way, she's a stand-up version of the Archie Bunker TV-sitcom character than Norman Lear created in the early 1970s.
So, in that respect, what she does is partly social commentary.
"At first, part of the lure was me just seeing what I could get away with, but when I really got a sense of how many people still embrace these idiotic stereotypes, I became more and more drawn to calling out people who are that ignorant," says Lampanelli.
And her earliest comedy influences included the old Dean Martin roasts she saw on TV as a child, in which comedians prolifically—but good-naturedly—hurled comics insults at the roastee.
"That just seemed so cool and funny to me, that they would just insult the guy, but that we knew it was all in good fun," says Lampanelli, who brings her "insult-comic" humor to the Michigan Theater on Saturday.
PREVIEW
Lisa Lampanelli
Who: Insult comic who's been dubbed "The Queen of Mean."
What: A barrage of edgy insult jokes that mock stereotypes of every group you can imagine — blacks, gays, Jews, Hispanics, Arabs, Asians, etc.
Where: Michigan Theater, 603 East Liberty Street.
When: Saturday, 8 p.m.
How much: $39.50 seats still available. Buy tickets by calling 800-745-3000, going to any Ticketmaster location or visiting Ticketmaster.com.
And she has continued that tradition by being a regular on Comedy Central's various roasts of comics and actors and celebrity buffoons like Donald Trump.
But now—after doing rehab and therapy for co-dependency, food-addiction and self-esteem issues—she says she now understands that those issues were a factor in her being drawn to such a cutting style of humor.
"Yeah, it was sort of like, 'I'm gonna get them before they get me,'" says Lampanelli, who adds that her issues stem in part from growing up in a dysfunctional family in which one of her parents had extreme rage issues. And, she's also talked about the vicious circle in which her self-esteem issues led her to her food addiction, which led in turn to a weight problem, which in turn fueled more self-esteem problems.
But now, after the rehab and therapy, she says she's in a much better place. However, that's not going to soften her edgy approach to comedy: "No, you can't completely change who you are, and this IS what I am best at, and I do still believe that by mocking that kind of thinking, I'm performing a form of social commentary that has value."
However, she did decide to further address her weight problem this past summer by getting gastric sleeve surgery. In fact, she and her husband both had the procedure done.
"We'd both been struggling with weight issues for a long time, I'd tried every program, and every diet, and still was not able to lose as much weight as I needed to in order to be healthy," says Lampanelli by phone from her home in Connecticut.
"My doctor suggested that I have it done. He said, 'You don't see many women your weight who are 70 years old, because carrying that weight leads to other health problems that can lead to early death.' That was pretty sobering, so we had it done."
The surgery has been successful thus far, she says: She's already lost 93 pounds, while her husband has shed 79 pounds. The procedure has successfully curbed her over-eating even though that eating was mostly "emotional eating"—that is, it was often in response to becoming angry, or depressed, or being emotionally wounded.
"Now, since the surgery, I am physically unable to overeat in reaction to some kind of emotional situation, so that forces me to work on whatever emotions I used to 'stuff" by eating," she explains.
In the last year or so, Lampanelli's profile rose considerably outside of the comedy circuit when she was featured on "Celebrity Apprentice." She'd previously been a regular viewer of the show, and decided to go "all in" and join the show.
"It was one of the hardest things I've ever done, just in terms of the time and energy commitment," says Lampanelli—"because I lasted till the very end—I was in every episode that season. I became a sleep-deprived crazy bitch, but I was able to draw on that whole experience and incorporate it into my stand-up act.
"I'm not really supposed to be talking it, because we all signed confidentiality agreements to not reveal a lot of that backstage stuff, but mostly I just tell funny behind-the-scenes stories about my interaction with the other contestants"—most notably, beauty queen Dayana Mendoza, who became her "nemesis" on the show and was on the receiving end of many of Lampanelli's barbs.
"Plus, I make fun of Donald Trump a lot," she adds with glee.
Lampanelli's most recent DVD of her stand-up act, "Tough Love," was released in 2011, so the act that we'll see in Ann Arbor is "almost entirely new material that was not on that DVD, except for a couple of bits that I still sometimes like to keep in my act," she says.
Lampanelli's current act includes a few jokes that Comedy Central cut from the broadcast of her March, 2011 Comedy Central special—the same show that is captured on the "Tough Love" DVD. Comedy Central deemed that some of the jokes went "too far"—including one about Chaz Bono, formerly Chastity Bono, the transgender child of Cher.
Her current act also flings some satirical barbs at Clay Aiken, as well as two more of her fellow "Apprentice" contestants—Lou Ferrigno and Victoria Gotti. And, of course, she continues her usual lampooning of racial stereotypes regarding blacks, Puerto Ricans, Jews, etc.
Lampanelli has also written an autobiographical one-woman show that she hopes to debut next summer, "and if all goes well, if it gets a good reception, hopefully, I'll do it on Broadway."
The general comic tone will be similar to the tone of her stand-up shows, she says—"except it's about me and my life - the co-dependency, and food issues, and my relationships, and self-esteem and self-acceptance. But, I've found a way to talk about that stuff, and myself, in a way that's funny, without being heavy-handed."
Kevin Ransom, a free-lance writer who covers comedy and music for AnnArbor.com, can be reached at KevinRansom10@aol.com.