theater preview
Encore Theatre staging family-friendly 'Little Women' musical
Posted on Sat, Jan 29, 2011 : 6:03 a.m.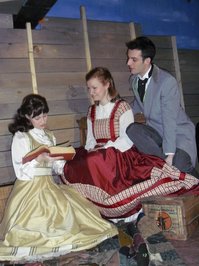 Photo by Colleen Meyer
On the heels of the commercial smash musical "Wicked" – which premiered in New York in 2003 and drew pre-teen girls to Broadway in droves — a musical theater adaptation of Louisa May Alcott's classic novel, "Little Women," appeared on the Great White Way in 2005.
The show clearly aspired to attract the same demographic as "Wicked," but Encore Theater's assistant artistic director, Steve DeBruyne, hardly fit the audience profile. "I had friends in New York who wanted to see ('Little Women')," said DeBruyne. "I wasn't completely uninterested, but it wasn't a show I'd been looking forward to, or was seeking out for myself. But since my friends were going, I tagged along, and I was really moved by the show. I'd seen a movie version, so I knew it was a good story, but adding music to it moved it to another level."
DeBruyne was so inspired, in fact, that he's now directing his own production at Encore. But there were obstacles to getting this to happen — namely, Encore co-founder and artistic director Dan Cooney wasn't familiar with the show, nor was he interested in producing it. So last year, DeBruyne organized a reading of the musical, solely for Cooney's benefit.
"I think even after the reading, Dan was still a little confused by it," said DeBruyne. "But what ultimately sold Dan was the reaction of the young women reading the script, who were laughing and in tears while they were reading this. So he still didn't necessarily connect to the show himself, but he saw what was happening to the people to around him and said, 'Maybe it doesn't matter if I don't get it.' … He took a leap of faith."
PREVIEW
What: Stage musical adaptation of Louisa May Alcott's classic 1869 novel about four sisters — Meg, Jo, Beth, and Amy — who are growing up in Civil War America. Book by Allan Knee, lyrics by Mindi Dickstein, and music by Jason Howland.
Where: Encore Theatre, 3126 Broad Street in Dexter.
When: Thursday at 7 p.m., Friday at 8 p.m., Saturday 3 and 8 p.m., and Sunday at 3 p.m., February 3-20.
How much: $28 (patrons 17 and under and seniors, $25).
Info: 734-268-6200 or the Encore Theatre website.
"Little Women," of course, focuses on four coming-of-age sisters who only have their mother at home, due to their father's involvement in the Civil War. Meg, the oldest sister, is dutiful and romantic; Jo is a tomboy and an aspiring writer; Beth is sweet, faithful, and quiet; and the youngest, Amy, is temperamental and a bit selfish.
"It's such a great story about families — a family that loves each other despite their flaws and weaknesses," said DeBruyne. "And (the story) helps you imagine living in the time of the Civil War, when the fighting was going on, and the father's gone, and you don't know if you'll see him again. It's so hard to imagine what life would have been like going through all that. Jo, the heroine of the show, escapes through the stories she writes, and really, all she has is her portfolio of stories and her family."
Broadway superstar (and Michigan native) Sutton Foster starred as Jo in the original Broadway production, with Maureen McGovern earning critical praise as Marmee. For Encore's production, lots of hopefuls turned up for auditions, and there were more callbacks than ever before.
"It was partly about how they played off each other, because they're supposed to be a family," said DeBruyne. "We brought in a final group of girls, and while they were waiting for auditions to start in the greenroom, they were all so bubbly and giggly and talkative with each other. And because of the atmosphere they were creating in the greenroom, at that moment, I thought, 'This is going to work.'"
With a cast of only 10, "Little Women" — with a book by Allan Knee, lyrics by Mindi Dickstein, and music by Jason Howland — may well benefit by virtue of being staged in an intimate venue like Encore; and according to DeBruyne, brothers and dads needn't sit this one out.
"It's really about being a family, not about being a boy or a girl," said DeBruyne. "Jo really is a tomboy, not some lady in big dresses, and she's writing blood and guts stories. … There are these fun numbers where her characters come to life, and I think that's the stuff that the guys will enjoy. … So there's something for everybody."