play review
The Encore Theatre makes 'Little Women' a better show
Posted on Sat, Feb 5, 2011 : 3:03 a.m.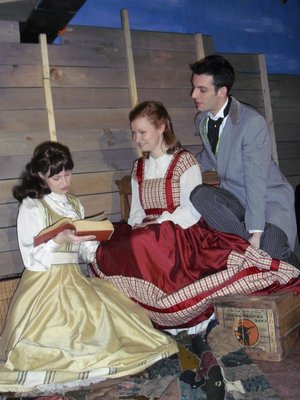 Photo by Colleen Meyer
During these icy, dead-of-winter days, an invitation into the threadbare but cozy home of the March family - the center of Louisa May Alcott's beloved novel "Little Women," the stage musical version of which is now playing at Dexter's Encore Theatre - can feel like the theatrical equivalent of fresh-from-the-oven comfort food.
This is especially true if you grew up reading Alcott's book (as I did), and thus have the mini-dramas that occur between the four coming-of-age March sisters tattooed on your brain.
Tellingly, it's far more useful to describe the story in terms of the sisters' different personas than to attempt a synopsis regarding what exactly happens. Meg (Thalia Schramm) is the good-hearted, romantic oldest sister; Jo (Katie Hardy) is the strong-minded, outspoken proto-feminist with dreams of becoming a writer; Beth (Cara AnnMarie) is the quiet, sweet, and patient sister; and Amy (Madison Deadman) is the jealous, petulant youngest sister who longs for the finer things that her family can't afford.
Benevolently watching over them all, while the girls' father is embroiled in the Civil War, is Marmee (Sonja Marquis), as well as Laurie (Sean Widener), the well-to-do young man next door who becomes Jo's best friend.
The March sisters' stories are domestic and small in scale, not the stuff of high drama, and for this reason, Allan Knee's book for "Little Women" struggles to fully capture the events' emotional punch while also squeezing in the book's major highlights. Moments like Amy's torching of Jo's writing portfolio, for example, feel as harrowing as a murder in Alcott's book; yet in the musical, the act is reduced to an impetuous act of bitterness that results in a temporary spat between sisters. (Therein lies the inherent difficulty of adapting coming-of-age novels for the stage; life's little day-to-day dramas tend to shrink even more when they're reduced to plot points.)
Also, Jason Howland's music and Mindi Dickstein's lyrics are generally bland and wholly forgettable.
Yet in many ways, Encore's production impressively transcends the material. The intimacy of the venue works wonders, in that it invites the audience to lose themselves within the March family's warm, insular world; and the performances, guided by director Steve DeBruyne, are generally terrific.
In several cases, for instance, the actors make a mediocre song powerful, simply by virtue of letting the emotion behind it drive the words. This applies to Marquis' "Here Alone," Widener's "Take a Chance on Me," Hardy's "Astonishing," DeBruyne (as Laurie's tutor, John Brooke) and Schramm's "More Than I Am," and Rusty Mewha's "How I Am." (Mewha and Hardy also more than deliver on one of the show's better songs, "Small Umbrella in the Rain.") In lesser hands, these songs would merely be speed bumps, but DeBruyne's cast makes them, well, sing.
This also indicates how well DeBruyne has cast (and staged) the show. The sweet, clear quality of AnnMarie's voice is a glove-perfect fit for Beth, for example; and I'd defy anyone to find a better Jo than Hardy, who makes the potentially grating character both appealing and complex.
In terms of technical elements, Colleen E. Meyer's fabulous costume design deserves special mention, as does Leo Babcock's economic set design, paired with Jennifer Colby's props. Music director Jill Quagliata presides over "Little Women"'s tight, four-person orchestra, while Cara Manor provides appropriately light-touch (given the venue and tone) choreography.
So right now at Encore, you can witness an occasion wherein a director and his team, both on-stage and off-, have made a show better than it actually has any right to be - thus proving beyond a doubt that the people involved in each production of a show are ultimately the ones who make or break it.