Posted on
Tue, May 21, 2013 : 6:41 a.m.
Livingston Taylor talks about record industry, new songs ahead of Ark show
By Kevin Ransom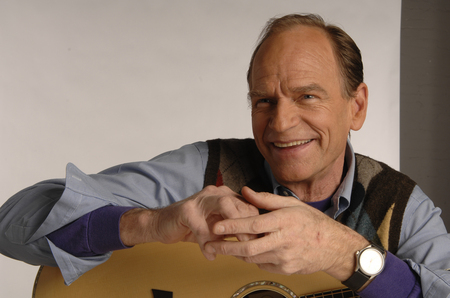 photo by Philip Porcella
For roughly the first 20 years of
Livingston Taylor's
music career, starting in about 1969-'70, he devoted himself full-time to performing and recording.
But in 1989, Taylor joined the faculty of the Berklee School of Music—and, all these years later, he continues to teach two Stage Performance courses per semester.
So, for these last 24 years, Taylor has enjoyed the variety of being both a performer / recording artist and a teacher. And in the last few years, he's also become involved in the administration at Berklee, so these days, he's at the school four days a week.
Consequently, he does not spend as much time recording and performing as he did in his pre-Berklee days. He's released two albums in the last 15 years, and he mostly limits his "touring" to the summer months, when he's not teaching. Although, during the school year, he still frequently does weekend shows in the Boston area, where he lives, but out of town as well.
But Taylor, the brother of James Taylor, is now at work on a new album, his first since "Last Alaska Moon" in 2010.
"It will consist of about one-third my own songs, plus an eclectic mix of my interpretations of songs that amuse me, or songs that I've wanted to record for a long time—like 'I Have Dreamed' from 'The King and I,' and Laura Nyro's 'Sweet Blindness,' and 'Maybe,' the lovely ballad from the 'Annie' musical, and 'Here You Come Again,' Dolly Parton's first pop-music hit."
For this record, given the state of the recording industry these last 12 years or so, Taylor didn't spend much time thinking about things like airplay or hits—which actually gave him more freedom to just make the kind of record he wanted to make, instead of taking commercial considerations into account.
PREVIEW
Livingston Taylor
Who: Veteran singer-songwriter and brother of James Taylor who has also been a professor at Berklee School of Music since 1989. With Chelsea Berry.
What: Taylor's albums are produced affairs, but for his live shows, the focus is on his voice, acoustic guitar and his exuberant personality and stage presence. He's at work on a new album, so some new songs could be added to the mix for this show.
Where: The Ark, 316 S. Main St., Ann Arbor.
When: Friday, May 24, 8 p.m.
How much: $20. Tickets available from The Ark box office (with no service charge); Michigan Union Ticket Office, 530 S. State St.; or online from MUTO.
"We're in era where records just don't generate the profit stream they used to, so I've just decided to do things that I like," says Taylor, who comes to The Ark on Friday. "It's difficult to make records like the ones from the golden era of record companies," which Taylor defines as the period between "about 1964 until around 1990 or '95. Since the labels don't have the revenue they used to have, we don't have the kind of distribution networks we used to have—or the kind of recording budgets we used to have," he says.
"The Internet really has had disrupted all of the old distribution models—so there's no revenue to finance the gatekeepers, who can put that money into developing talent, and getting the records out there."
Some younger music consumers argue that the current digital / Internet-based distribution model is better, or at least more egalitarian, but Taylor disagrees.
"If today's model was a better one, then young people's iPods today would not be mostly stocked with music that was made 20 years or more before they were born," says Taylor by phone from his home in Watertown, Mass. "When people of my generation were young, we didn't have many records in our collections that were 20 years old. There was such a flood of great music coming through the pipeline, with so many new releases every month, most of the records we had were only about 20 minutes old," he jokes.
Taylor demurs when asked about his new original songs. "I don't know how to answer that question, except to say that one is a gospel song, one is a light song, one is a love song….I don't know how to describe them. I really can't give you a description, per se. All I can say is that, if you like well-crafted Livingston Taylor songs, you'll like these, because there is nothing about them that is wildly outside of the mold of what I've been doing over the years."
Taylor's live shows are acoustic affairs, focusing on his vocals and acoustic-guitar accompaniment—and his effusive personality.
But in the studio, it's a different story. So, this upcoming disc, like his previous ones, will be a sonically layered, textured endeavor, with electric guitar, drums, and keyboards, at the very least. "Last Alaska Moon" also featured strings and complex, orchestrated arrangements.
"I've always been interested in making good pop records," says Taylor. "I like a good, produced record.
"But I have no desire to mix those two things—what I do live and what I do in the studio. What I take on the road and what I do in the studio are very different animals. Playing live is great love of mine, and something I know how to do well, but I also love making records that people want to listen to, and that often requires painstaking, intricate work." A couple of years ago, Taylor wrote a book, "Stage Performance," which, as one would assume, covers much of the ground he covers in his classes. But it was done in fictionalized form.
"I invented this fictitious stage-performance class, and wrote about the students coming to class over the course of the semester, and it included the lessons that are taught in the class, and had scenes with the students participating and performing," explains Taylor.
"The biggest point I try to make in the class I teach is that it's not about you, it is about the audience. The idea of getting up in front of a group and performing was your idea, not theirs. It was your vision for yourself, and it's a very presumptive act. So, simply put, you need to always keep your audience in mind, because you need them a lot more than they need you."
Kevin Ransom is a free-lance writer who covers music for AnnArbor.com. He can be reached at KevinRansom10@aol.com.