album review
with jukebox:

"Live From Studio A2, Vol. 2" offers enjoyable musical snapshots

Posted on Mon, Dec 21, 2009 : 5:26 a.m.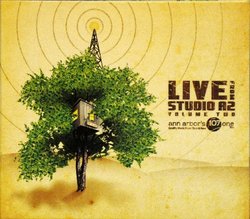 Ever get the feeling that you're missing out on a lot of good musicians coming through Ann Arbor? Well, you are; it would be nearly impossible for one person to see every touring act worth seeing that stops in our town.

That's one of the reasons "Live From Studio A2, Vol. 2" deserves some attention. Released last month, the album collects some of the best musical performances recorded by radio station Ann Arbor's 107one (WQKL, 107.1-FM), both in concert and in studio, during local stops by these talented musicians.

All the tracks are well done, so the ones you'll end up considering the highlights are probably just the ones from the artists you like best. Some of my favorites here: Colin Hay's "I Just Don't Think I'll Ever Get Over You" is a well-crafted confessional typical of his best solo work. Jen Sygit and Sam Corbin's "My Sweet Angeline" brings a nice piece of lively regional flavor. John Hiatt's "Love You Again" shows off his weather-beaten voice to great effect. And They Might Be Giants' "Particle Man" is a terrific slice of that duo's offbeat humor.

Listen to a playlist of songs featured on "Live From Studio A2, Vol. 2":

And if those songs aren't quite your cup of coffee, there's more, including tracks from the Indigo Girls, Feist, Ari Hest, Joe Pug, Vienna Teng and beyond — 16 in all, maintaining an easygoing, largely acoustic groove. Bottom line: If you like the styles of music they plan on 107one, you'll probably find things to like here.

Beyond the music, though, buying this album does some good for the community: Net proceeds benefit the Michigan Theater, Ann Arbor's grand movie palace (and host for innumerable memorable concerts). It's worth your $12.99.

The disc is on sale at the Michigan Theater, 603 E. Liberty St., and at Borders stores in Ann Arbor (downtown, Arborland and Waters Place on Lohr Road), Brighton, Canton and Novi.