Posted on
Tue, Oct 30, 2012 : 10:10 a.m.
Ann Arbor's Liz (E.T.) Crowe celebrates release of her newest erotic novel, 'Escalation Clause'
By Jenn McKee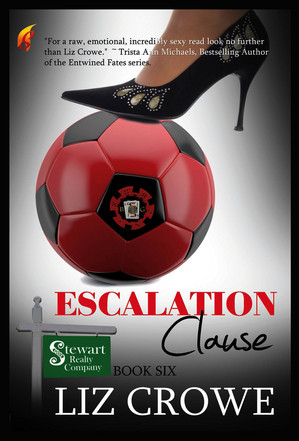 When you hear the words "suds" and "romance" together, daytime television soap operas usually come to mind; but if local
A2 Beer Wench blogger
and bestselling erotic fiction author
Liz (E.T.) Crowe
's star keeps rising, she might just change the course of thinking on that particular word pairing.
Crowe - who will discuss and sign copies of her newest release, "Escalation Clause" (book six of the Stewart Realty series), at Nicola's Books on November 4 - has incorporated her knowledge of the craft beer industry into some of her novels, like "Paradise Hops," which she claims as a favorite among her 14 published books. (Crowe is also part owner and marketing director for Wolverine State Brewing Company.)
"I try to bring new and unique settings to traditional (stories)," said Crowe. " … I love all the books that I've written for different reasons. … But I love the book 'Paradise Hops.' I write fast, like I read, and I marathon write. I 'head write' it for three or four days, and then I have to sit down and do it. I wrote 'Paradise Hops' in 10 days. But it's in my head, and it's got to get out, and everything around me suffers. My house, my kids, the beer stuff. … Obviously, I meet my obligations, but I'm up late, and I'm up early, to get stuff done."
Crowe's Stewart Realty series, meanwhile, draws on her past experience working in real estate sales, and her Turkish Delight series was partly inspired by time spent living in Istanbul.
While Crowe has a passion for writing fiction now, the pursuit wasn't a lifelong ambition.
"Neither was owning a brewery," said Crowe. "They both came late in life. I have a degree in English (from Louisville). Both my parents were college professors. My father was a minister. So I'm a preacher's kid, and it's all true, what they say. I grew up in academic circles and in small college towns my whole life, and my parents always just assumed I would teach, get a master's degree. … I wasn't interested in that life."
Instead, she pursued a career in marketing, fundraising, and public relations, and then lived in three different countries (Japan, Turkey, and England) in seven years as an ex-pat spouse.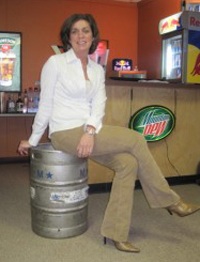 Photo provided by TriDestiny Publishing
"Before we left, I got my real estate license, but I hadn't done a lot of work in it before we left," said Crowe. "When I came back, I picked it back up. I sold from 2004-10, and I did well. Those were really bad years in real estate, but I made good money. I was good at it. I didn't enjoy it that much as I thought I would, but I loved the people. I still have a huge connection to my realtor people, and that's where the series came from."
Set in Ann Arbor, Crowe's Stewart Realty series focuses on 35-year-old millionaire real estate broker Jack Gordon, who has a dominance and submission past, and Sara Thornton, a rookie broker that sparks his interest.
Of course, because erotic fiction, by definition, involves multiple sex scenes, you might wonder if it's difficult for writers to avoid repetition.
"Absolutely," said Crowe. "But to me, the way I look at it, it's like any scene in novels. Murder scenes, say, in murder mysteries. Or crime thrillers or medical dramas. You've always got to be making that stuff fresh. Always."
Crowe's a voracious reader who mostly reads mainstream fiction, along with many of the books her three kids (the oldest is in college, while the other two are teenagers) read for school and for pleasure. And while you might think teenagers would be embarrassed about having a mom who writes erotic fiction, Crowe's oldest son is returning home from college for her book signing party; her 18-year-old daughter helps her come up with names for characters and offers feedback about story lines; and the youngest, when provided the basic outline of the story of "Paradise Hops," handed Crowe a crucial plot point.
PREVIEW
Liz (E.T.) Crowe book signing
What: Local author Crowe - also known as the Wolverine State Brewing marketing director and part owner, and Ann Arbor's Beer Wench blogger - will sign copies of her newest erotic fiction release, "Escalation Clause," which is part 6 of the Stewart Realty series, set in Ann Arbor. The series has been a bestseller on Amazon.com in both "urban fiction" and "family saga" categories.
Where: Nicola's Books, 2513 Jackson Ave. in Ann Arbor.
When: Sunday, November 4 at 3 p.m. The event will begin with a meet and greet, followed by Liz reading from the latest book and from the original book in the series, "Floor Time." A Q&A will be followed by the signing, and the party will then move down the street to the Wolverine Tap Room, at 2019 W. Stadium Blvd. in Ann Arbor.
How much: Free. For more details, call 734-662-0600 or visit www.nicolasbooks.com/.
"I'm not ashamed one bit of what I write," said Crowe. "I work just as hard as any novelist to create books. I just leave the sex in. … I take a romance meme, … and what I try to do is make the (stuff) happening more realistic. While my characters may be very attractive, they're flawed, and people get aggravated and angry with them."
This is likely why a reader coined Crowe's tag line, "Romance for Real Life." And recently, Crowe's influence has been growing, thanks to strong reviews and word of mouth.
"First you have to write really great books," said Crowe. " … I write what I want to read, and I've honed it through the few years I've been doing this. (My first book was published in 2009.) They've all been e-books. This publisher is the first to take me to print, and we're already having to do a second run, because they sold out. So I wrote what I wanted to read, and then I'm a marketing professional, like I said, I've always done marketing, and I research reading trends, and I research where people go to get information about books, and I try to hit those places."
Earlier this year, Crowe's Stewart Realty series began appearing on Amazon's bestseller lists in the categories of "urban fiction" and "family saga." And she's got lots of ideas for additional books. But in addition to her work at Wolverine State Brewing Company, and her writing, and her home life, she also must feed the maw of social networks, where her growing legion of fans increasingly come to interact with her.
"The whole social networking thing is an amazing blessing and a horrific curse at the same time," said Crowe, whose phone beeped and chirped every couple of minutes throughout our interview. "Because once you do it, you have to keep doing it. … You can't drop something and walk away. You have to engage with people. And I do."
Jenn McKee is the entertainment digital journalist for AnnArbor.com. Reach her at jennmckee@annarbor.com or 734-623-2546, and follow her on Twitter @jennmckee.