Posted on
Mon, Jul 19, 2010 : 5:04 a.m.
Ann Arbor area artists anticipate upcoming Art Fairs
By Jennifer Eberbach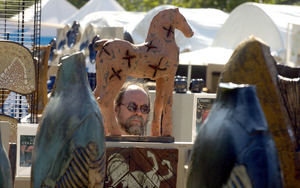 file photo
As Ann Arbor braces for the Ann Arbor Art Fairs, taking place July 21-24, local participants are looking forward to the return of the event. The four Ann Arbor Art Fairs feature vendors from all over the country, but they also include a number of local artists working in a variety of media.
Ceramist Jeri Hollister has had a booth at the fair multiple times since 1991. She admits that getting ready for the large, four-day event is a lot of work; however, she always enjoys it once it's under way. She'll be selling her sculptures and 3-D "tile drawings," which frequently employ images of horses, in close vicinity to 14 other Ann Arbor Potters Guild artists at a booth near Hill Auditorium.
"Preparing for it is difficult. The amount of energy it takes to physically set up your booth and be there every day is daunting. But I have to say that once I'm actually there talking to people about my work and watching people's reactions, I enjoy it. It's wonderful when you are in the middle of it," Hollister says.
Due to the rocky economic climate, many art fair artists have opted to sell more lower-priced artworks. Last year, Hollister made "a concerted effort to make smaller works or works that I could do quicker, and then set them at a more accessible price," she says. Along with less expensive artworks, she will also mix in larger artworks that are "show pieces that will attract people to my booth. You never really know what will sell," she says.
Hollister tries not to over-think sales. "I've found over the years that the best approach to take is to make a body of work that is the best I can do. Then I present a display that looks good and has cohesiveness, which not only offers a variety of visual treats but also has a range of prices, so there is something for everyone," she says.
Painter Scott Hartley has been participating in the Ann Arbor Art Fairs a bit longer than Hollister, starting in 1985. This year, he plans to sell watercolor paintings that are mostly mid-sized and mid-priced, along with small works and more expensive large pieces from his booth near the Michigan League.
Hartley has "built up a customer base over the years, and I get repeat business," he says. In terms of sales, he says that his experience in Ann Arbor is "one of the best."
In addition to good sales, Hartley likes selling his wares at art fairs because it offers him more opportunities to connect with collectors and other artists than usual. "I like that it gives me a chance to talk directly with my customers and to the other artists. It's nice to have more contact with everyone than tends to happen in a gallery setting," he says.
A couple of weeks ago, mixed media artist Mike Sivak learned that he made it off the wait list. He will have an art fair booth for the first time this year, located near the Diag across from the Ingalls Mall area.
"I'm in the studio right now cranking stuff out to sell at the fair," Sivak says excitedly.
He has decided to sell artworks that are similar to examples he submitted when he applied to the fair because "I've heard that it's diligent to show up with the stuff that they are expecting for you to show up with," the newcomer says. Many of his artworks will be small-sized reliquaries, which feature a mix of found objects and materials, including CDs.
Sivak — who was encouraged to apply for a booth by his wife and past Art Fairs artist Julie Renfro — is "excited for the unexpected," and he is looking forward to the opportunity to connect with fellow artists and art collectors. Most of time he prefers working alone in his studio, and he admits, "I'm not a very social person," however, "I think at that particular venue I could get into it."
Since he has short notice to complete enough works in time for the fair, Sivak has had to tell a few people that they aren't allowed to buy anything ahead of time. "I tell them, they have to wait! I need to have enough ready for the fair!" he laughs.
As the Ann Arbor Art Fairs approach, some Ann Arbor area artists who are not participants are looking forward to attending as buyers and fans. For example, at the recent Shadow Art Fair in Ypsilanti — a smaller, perhaps funkier event with quite a different vibe from Ann Arbor's gigantic fair — a few people told me that they plan to go to both. In general, they said that although the two events are very different, they like going to both because they get different things out of each.
Although the Art Fairs have their critics, the Ann Arbor artists participating this year look at them with excitement. Hollister is always impressed by the quality of the artwork at the fairs, and "I've always come away from it with a feeling that it was worth it," she says.
Jennifer Eberbach is a free-lance writer who covers art for AnnArbor.com.