Posted on
Tue, Dec 27, 2011 : 5:59 a.m.
Local music hero Dave Boutette explores endings and beginnings on impressive new album
By Will Stewart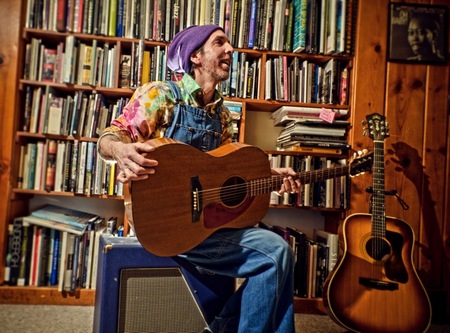 photo by Doug Coombe
It hasn't been an easy year for the nicest guy on the local music scene.
But true to his nature, Dave Boutette has taken a troubled time and mined it for the material that forms the backbone of his new record, the appropriately titled "Mending Time."
"I guess the big theme is about putting things back together," Boutette said recently during a break from his regular weekly gig hosting the Tuesday open-mic night at Woodruff's Bar in Ypsilanti.
"It's about making the best of the things—good and bad—that come your way."
Fortunately, Boutette is too good a songwriter, and too unfailingly upbeat, to lather an entire album in pathos and lament. Instead, for his fifth and probably—no, definitely—his best album, Boutette has crafted a record that mixes the personal with bigger-picture themes to create a cohesive and delightful collection of breezy songs.

Hard times have never sounded so good.

"Through all trials, you can find peace," Boutette said with a laugh. "And this record is a testament to that."

Boutette is reluctant to discuss the particulars of the past year or so, other than to say they involve endings and new beginnings and coming to terms with both.

"Basically, I went to work," he said. "I worked my day job. I worked a lot of gigs and I worked on making this album, which sort of sums up the whole experience."

You could listen to "Mending Time" and be taken with the easy, breezy feel Boutette conveys in songs like "Sweet Tall Grass" and the jazz-flecked "Slip Across the Starlight."

It isn't until you really dig into the songs that their true heft becomes apparent.

As he has in the past, Boutette teamed up with the Dexter-based producer Adam Druckman to set the tone for "Mending Time." The pair found the perfect sonic settings for Boutette's deceptively intricate tunes.

"Adam serves the songs," Boutette said. "We talk a lot about what we want to achieve and then we set about to do it."

He called his last record, 2009's Druckman-produced "Piccolo Heart," his own "Sgt. Pepper's Lonely Hearts Club Band," due to the fact that he and Druckman threw every trick they could at its production to create a lush, dense setting for Boutette's tunes.

For "Mending Time," despite the presence of such local luminaries as singer-songwriter Jo Serrapere, harmonica ace Peter Madcat Ruth, guitarist Brian Delaney and a host of others, the feel this time around is considerably more stripped down.

Yet "Mending Time" stands as Boutette's finest effort to date, thanks to its tasteful, clear-eyed production; Boutette's stellar songs; and the nearly two decades he's spent honing his craft.

No gig is too big or to small for Boutette.

He plays everything from tea rooms by himself to rocking gigs with his multi-piece, so-called "Showband and Revue" and still he's here at Woodruff's every Tuesday night, walking beginners through the process of playing live and serving as a knowing ear for veteran performers looking for feedback on new material.

"I love meeting new people—and besides, I got my start doing tis kind of thing at (local singer-songwriter) Chris Buhalis' open-mic at the Tap Room," he said. "It's important to me to do what I can to keep this feeling of musical community going, because the musical standard around here is so high.

In addition to his busy schedule of gigs around Ann Arbor Boutette has established himself as a popular draw across northern Michigan.

So much so that, particularly during the summer months, he maintains a dual role as a local cat and and "up north" artist.

"I've been very fortunate to have gained a following in the northern parts of the state, as well as down here" he said. "After all these years calling around for gigs, my phone rings now with offers.

"It's really an honor."

The new album is available at Morgan & York, 1928 Packard. Dave Boutette's weekly open-mic night takes a holiday hiatus this week and next, but it returns Tuesday, Jan. 10 to Woodruff's, 36 E. Cross St. in Ypsilanti. Hours have changed: The open-mic will run from 8-11 p.m. For more information on Boutette, including a schedule of upcoming gigs, check his website.