Posted on
Wed, Jul 24, 2013 : 11:14 a.m.
Local musicians come together at Blind Pig Saturday for extravaganza of Beatles' tunes
By Roger LeLievre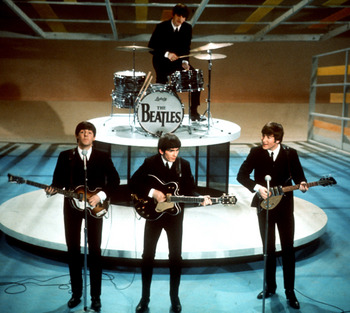 AP Photo
The road to the Blind Pig may not be long and winding, but it is the quickest way to the second and now-annual "The Beatles Extravaganza," Saturday night.
Among the musicians mining The Beatles' gold-filled songbook are Laith Al-Saadi, George Bedard & the Kingpins, Anna Lee's Company, The White Ravens, Spencer Michaud, David Nefesh, Orpheum Bell, Wolfie Complex, Gwynyth Hayes and Nicole P'Simer.
"Two new angles on this year's show are that we have Laith Al-Saadi, a walking Beatles songbook, and also many female performers," said musician-singer-songwriter Alejandra O'Leary, who organizes the event. "It will make for a really cool interpretive night of music."
Like last year, there will be special discounts at the door for people with Beatles song names (Rita, Prudence, Sadie, Michelle, etc. ID required.)
So don't be left waiting for Maxwell's silver hammer to come down on your head (or something like that). Last year's show sold out, so get your tickets early.
"The Beatles Extravaganza" will be at the Blind Pig, 208 S. First St, on Saturday, July 27. Doors open at 7:30 p.m. Tickets are $10-$13. Details at blindpigmusic.com or 734-996-8555.