Posted on
Fri, Aug 16, 2013 : 10:26 a.m.
Local singer/songwriter Dan Henig aims to shape his post-viral-video career
By Jenn McKee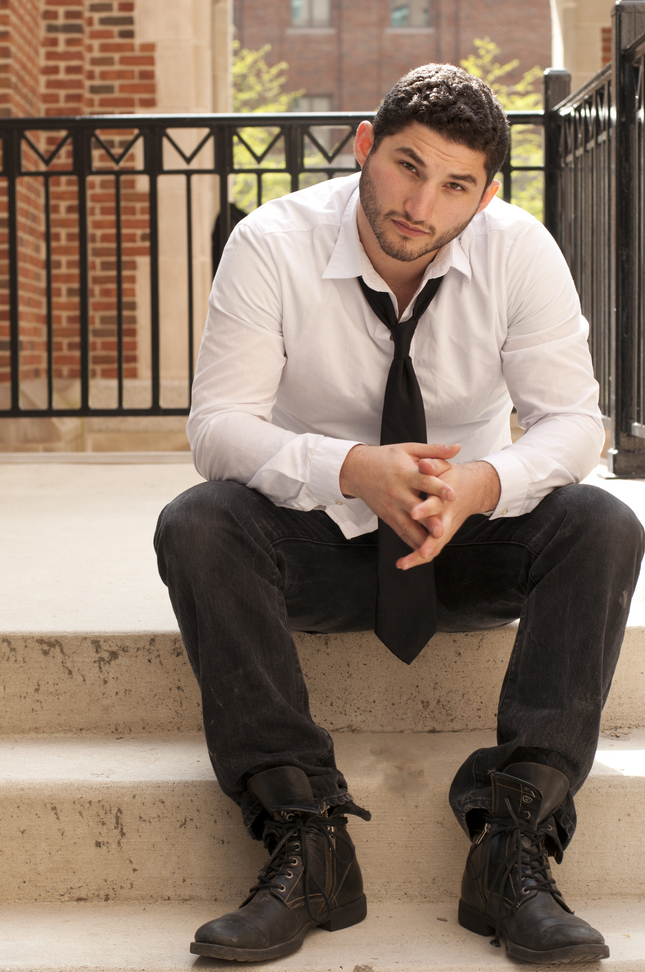 Photo by Annie Harris
Local singer/songwriter
Dan Henig
- whose
acoustic, coffee shop rendition of Lil John and the East Side Boyz's raunchy "Get Low"
went viral near the end of 2012 - seems to be going places.
But this wouldn't be a new experience, since the Ann Arbor native and his family moved 6 times in 6 years during a stint in England.
"I think of myself as someone who gets along with most people," said Henig, who left Ann Arbor for England at age 4 and returned just before his 11th birthday. "And that time absolutely shaped me. … We were in different towns and different schools each year, so I had to learn how to talk to different people and relate to them and really listen to them. … I wasn't playing much music when I was there, but I think the experience ended up making me a better musician."
Henig is not, however, the kind of musician who studied for years at the feet of experts. He began learning to play the cello in England, but left that behind, opting to experiment independently on a piano. Upon moving back to Ann Arbor, he played cornet (and later trumpet) in school, only to leave that behind in 8th grade. He also took up guitar, but only took one or two lessons before deciding lessons weren't for him—and made a similar call after starting to study music at Chicago's Columbia College.
"I've always been the kind of guy who does things on his own," said Henig. " … The thing about music for me is, when it becomes stale, or becomes something that is regimented and work-like, it doesn't seem worth it to me. It doesn't sound as good when the music isn't from the heart. As cheesy and weird as that sounds. … Sitting in a classroom learning scales and music theory, and listening to Bach and Mozart—that's cool, but it's not what I'm into."
So Henig returned to Ann Arbor and worked on his music independently while taking business classes at Washtenaw Community College. And the seed for his now-famous "Get Low" cover was planted.
"I did the cover originally at an open mic night at the Blue Tractor a couple of years ago," Henig said. "I pulled up the lyrics on my phone and picked out the chords. … It got some good laughs, so I started playing it at other shows, and it always got a good response."
At about this time, Henig wanted to make a video for one of his original songs, and wanted to raise the money for production via Kickstarter—but he didn't then have enough fans that would care enough to donate. So his friend (who's a filmmaker), Billy Jackson, suggested that Henig perform covers and release them online. Their first collaboration, Ryan Lewis and Macklemore's "Thrift Shop," did well, racking up 2,000 views overnight, while Henig's mash-up of "As Long as You Love Me/I Can't Make You Love Me" drew far fewer.
"That was my first taste of how things work on Youtube, in terms of how many people will watch a rap cover versus a pretty song," said Henig.
When Henig shared his version of "Get Low" with Jackson, the director came up with the idea of Henig performing it in a coffee shop and capturing patrons' reactions.
And although the video premiered on YouTube at a less-than-optimal time—10 p.m. on a Monday—Henig awoke the next day to find that his video had already been viewed 35,000 times. (Warning: the song contains adult language.)
Henig's website crashed, thanks to a sudden onslaught of traffic, and a screenshot of one of his Tweets (about the website being down) appeared on the front page of Reddit. "I was in class that morning, but I couldn't stop looking at the numbers, and seeing (the video) on all these different blogs," said Henig. "That's what it felt like to go viral. It was just such a rush."
Shortly before this happened, Henig had earned a full-ride scholarship to a business school in New York, and he'd planned to start in January 2013. But the success of his "Get Low" video caused Henig to think, "That was my door opening, so I took a gamble and didn't go."
Of course, hitting upon "novelty" fame can be a blessing and a curse, in that an artist gets a taste of success while also potentially being trapped into fans' very specific expectations. But "Get Low" seems to have brought a variety of fans to Henig.
"There are dirty rap cover fans, who appreciate a funny cover and enjoy it, but I'm a fleeting thing for them. They're not going to go buy a record, but I still appreciate that that helped launch me. Then there are curious fans, who went deeper, checked out more of my covers and seem to like them. Then there are fan fans, who are actual fans that went and listened to my original music. … Then there are the super fans. The ones sending me emails from London and New York and L.A., asking me to play at weddings, or play certain venues, or play at business events."
Henig has written a lot of new material this summer; he opened for Brett Dennen (and sold out of his CDs) at Sonic Lunch; and although it was a struggle, and "cost an arm and a leg," he got the chance to make a video for his song "Falling." (The video's now in post-production.)
"My goal is to eventually be a writer for other artists," said Henig. "That's my dream, is to get into a room in Nashville or L.A. or London or New York with some big artists. … That's where my heart is is the writing. But I love performing, too. … I feel at home on stage. It's feels like meditating, especially when there's a good crowd and you're interacting with them - you can't beat it. There's nothing like it. But the part in between is grueling."
Henig would love to stay in Ann Arbor, but he realizes that he might have to relocate initially to a place like Los Angeles to take his career to the next level. But regardless of where he goes, fans can expect lots of new songs, if not an album, in the future.
"I'm not sure about the whole album thing," said Henig. "The more I think about it, the less it makes sense to me. I tried to remember the last time I bought an album, or even the last time my parents bought an album. … Everyone goes to iTunes now, and people only buy the songs want to hear. And when making an album, there tends to be this thing in the back of the musician's mind that says that all songs have to fit together. … But to me, each song is like a kid. If one child is artistic, and the other is all about stats or math, then maybe one should go to a magnet school, and the other should go to a performing arts school. … Why make one song fit another, if it's not supposed to? I just want to make each song the best song it can be."
Watch Henig's website for upcoming live shows.
Jenn McKee is an entertainment reporter for AnnArbor.com. Reach her at jennmckee@annarbor.com or 734-623-2546, and follow her on Twitter @jennmckee.