Local theater companies and artists win Wilde Awards
Posted on Wed, Aug 22, 2012 : 12:08 p.m.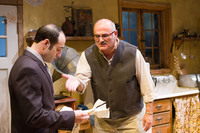 Each year, EncoreMichigan.com (previously part of the LGBT publication Between the Lines) hosts a ceremony to recognize the strongest professional theater achievements of the past season in Michigan.

On Tuesday evening, at the Jewish Community Center in West Bloomfield, awards were handed out in 25 categories, and artists involved in four local productions went home with a plaque.

The award for best drama went to the Purple Rose Theatre for "A Stone Carver"; playwright Joseph Zettelmaier won the best new script award for "Dead Man's Shoes," which was a co-production of Williamston Theatre and Performance Network; best performance by an actor in a drama went to Guy Sanville for his role in the Purple Rose Theatre's "A Stone Carver"; and Monika Essen won best set design for Performance Network's "Red."

Nearly 200 shows were reviewed by EncoreMichigan.com's team of reviewers (editor Don Calamia, Martin F. Kohn, Michael H. Margolin, myself, Sue Merrell, John Quinn, Bridgette M. Redman and Judith Cookis Rubens, with an assist from Carolyn Hayes, also known as the Rogue Critic), who gathered earlier this summer to determine the nominees and winners of this year's Wilde Awards.

Click here to see a full list of 2012 Wilde Award winners, as well as more information about Tuesday night's ceremony.