Posted on
Fri, Aug 31, 2012 : 9:46 a.m.
Young local musicians Ariel, Zoey & Eli release video for anti-bullying song
By Bob Needham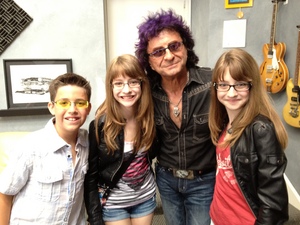 photo courtesy of Matt Engelbert
Ariel, Zoey & Eli
—the young musical trio from Ann Arbor with their own
nationally syndicated TV show
—recently completed work on a video for their song
"Hey Bully."
"Hey Bully" was written for the trio by Jim Peterik, a longtime music pro who founded the bands Survivor (for which he co-wrote the massive 1982 hit "Eye of the Tiger") and, earlier, The Ides of March (for which he wrote the AOR staple "Vehicle"). The "Hey Bully" video was shot Aug. 11 at Ypsilanti High School and features dance/cheer athletes from Premiere Athletics Michigan.
Twins Ariel and Zoey Engelbert (now age 13) have been performing in public for several years now, most recently also joined by younger brother Eli (11). The trio star in the syndicated kids' show "Ariel & Zoey & Eli, Too," a variety program that airs nationallly at 4:30 p.m. weekdays on TheCoolTV.
Here's the new video:
Audio of the song is available as a download from iTunes and CDBaby.
For more on AZE, check out their website. And check out past AnnArbor.com coverage of AZE here.
Bob Needham is director of entertainment content for AnnArbor.com. Reach him at bobneedham@annarbor.com or 734-623-2541, and follow him on Twitter @bobneedham.