Posted on
Thu, Oct 14, 2010 : 3:04 p.m.
Locally shot 'Conviction' getting limited release, but opening here soon
By Bob Needham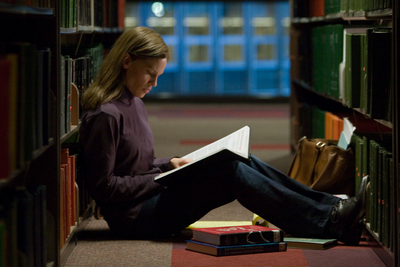 "Conviction," the Hilary Swank movie that shot in this area last year, is opening in just four cities this Friday. But a staggered, wider rollout is planned, and at least one Ann Arbor theater plans to open the movie October 29.
The initial opening is just in New York, Los Angeles, Boston (where the story is set) and Chicago, according to the movie's website. But an expansion the following week will bring the movie to one theater in Michigan, the Uptown 8 in Birmingham. And then, barring a last-minute change, on October 29 it's expected to open at the State Theater in downtown Ann Arbor. No other local theaters have yet announced plans to screen the movie, but that can change.
Originally titled "Betty Anne Waters," the movie is based on a true story of a woman who put herself through law school solely to defend her brother, who she was convinced had been wrongly sentenced to death. Minnie Driver, Sam Rockwell and Peter Gallagher are also in the cast. Production was headquartered in Ann Arbor, and shooting took place in Ann Arbor, Ypsilanti, Chelsea and Dexter.
Early reviews of the movie have been largely positive, as collected on the Rotten Tomatoes website; EW.com, for one, gave it a B+. And while the real Betty Anne Waters told The New York Times she's happy with the movie, it's not without some controversy: Celebrity lawyer Gloria Allred is criticizing the movie for not being sympathetic to relatives of the murder victim.
Here's the "Conviction" trailer:
Bob Needham is director of entertainment content for AnnArbor.com. Reach him at bobneedham@annarbor.com or 734-623-2541, and follow him on Twitter @bobneedham.