Posted on
Tue, Jun 11, 2013 : 11:15 a.m.
Loren Estleman talks about his newest book, 'The Confessions of Al Capone'
By Jenn McKee
Loren Estleman—the Whitmore Lake-based author who's collected a slew of awards for his crime novels and westerns over the course of his career—has just released his longest and (arguably) most ambitious novel yet: "The Confessions of Al Capone."
The historical mystery begins when FBI Chief J. Edgar Hoover plucks lowly proofreading clerk Peter Vasco from his desk for a special assignment: to use his father's past working relationship with Capone, and his abandoned pursuit of the priesthood, to pose as a priest and get close to Capone, in hopes of getting the now-free, ailing gangster to reveal details of his past crimes.
In anticipation of Estleman's upcoming appearance at Aunt Agatha's bookstore, AnnArbor.com interviewed the author about "Capone" and more.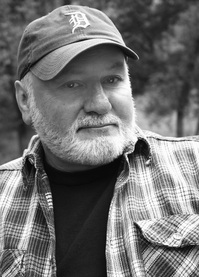 Q. Did this book take more time than usual for you to write?

A.
It did. … I'm a prolific author, which is something that doesn't always work to my benefit. … But at one point, I had something like six books at my publisher's, and he didn't want to see me for a while, so I went ahead and wrote it.
Q. Is this something you've wanted to tackle for a while?
A. Yeah, I've always been fascinated with that time. My parents were young in that period, so they always told me stories about that time.
Q. You must have come across conflicting stories and accounts when researching Capone. How did you determine what was likely true, and what to use as material for the novel?
A. That's always a problem. The same applies when I'm writing a historical western, where, you either have certain instances where there are no witnesses, or a whole bunch of witnesses, none of whom agree with each other. But because I'm a novelist instead of a historian, I have the freedom to speculate. So a lot of the time, I look for a story's common denominator, but I also consider which seems the most plausible, or entertaining.
Q. Your maternal grandmother had a connection to Capone. Could you tell me more about that?
A. She cooked in one of Capone's casinos in Chicago. … She thought he was one of the most jovial and generous bosses she'd ever had. … He had a nickname, Snorky, and not many people got to call him by that name, but she did.
PREVIEW
Loren Estleman book signing
What: Multi-award winning and prolific author Estleman, of Whitmore Lake, will talk about and sign copies of his new historical mystery, "The Confessions of Al Capone."
Where: Aunt Agatha's, 213 S. Fourth Ave. in Ann Arbor.
When: Saturday, June 15 at 2 p.m.
How much: Free. 734-769-1114 or www.auntagathas.com.
Q. Did your feelings about Capone change while learning more about him, and then writing portions of the book from his perspective?

A.
I think they did. … The more I researched him, the more I liked him—not what he did, certainly, but it's interesting to note that of all of the warring gangsters of that time, he was the only mob boss who took pains to ensure that no innocents would be caught in the crossfire. One time, when a woman was injured, he paid her hospital bills, which added up to $50,000. This was in the '20s. That was a lot of money back then.
Q. You have a strict daily writing routine. How do you make time for research?
A. I'm often researching the next project while working on one book. I have a kind of form I've made up: 5 to 1, meaning that I'll do five times the amount of research I'll actually end up using. But that's problematic, too, because how do you know what you'll need until you're writing it?
Q. Was it a challenge to write in the voice of Capone himself, and differentiate that from the narrative voice used in the rest of the novel?
A. It was a challenge, and it was the very kernel of the idea of what I wanted to do. … (Capone) had a fascinating cadence of speech. He loved to tell a story; he loved to talk about himself; he loved publicity. … I wanted that version of Capone to come through.
Q. You grew up on a farm, and developed a love for crime stories and westerns at an early age. Do you think this was because these genres offered stories and worlds that contrasted sharply with your own day-to-day experience?
A. Growing up and working on a farm made it easy to imagine working on a ranch 150 years ago. And my parents talked about the Depression a lot. My father had been a truck driver—he was a Teamster that worshipped Jimmy Hoffa—and my mother hates when I tell this story, but she dated a member of the Purple Gang before meeting my father. So the shows and stories set during that period seemed more real to me than the times I lived through myself. I've written about the Prohibition era, the Old West, and the '60s, and the one that was most challenging and that felt the most alien to me was the '60s, even though I lived in that time. It was like reading something from the Dead Sea Scrolls. It's like I just wasn't paying attention to the time I was living in.
Q. You've written 70 novels at this point. Have you always had a constant stream of story/book ideas, or did you ever stall?
A. It's constant. My wife, who's a professional writer also, will talk about how we have more ideas than we have life left to write them. At this point, we give ideas away. We'll be watching TV, or see something in the news, and we'll look at each other and say, 'There it is. Another damn blasted idea.'
Jenn McKee is an entertainment reporter for AnnArbor.com. Reach her at jennmckee@annarbor.com or 734-623-2546, and follow her on Twitter @jennmckee.