Posted on
Tue, May 18, 2010 : 5:55 a.m.
Former "Lost" writer from Ann Arbor reflects as the series finale approaches
By Jenn McKee
Though the pop culture juggernaut that is "Lost" is about to end, Javier Grillo-Marxuach — an Ann Arbor native (and Huron High School grad) who's now an established television writer/producer — was with the show when it was just being born. (Consider this a flashback, "Lost" fans. You're accustomed to those, right?)
file photo
Grillo-Marxuach was part of "Lost"'s writers' room during the show's first two seasons — a breakthrough gig that came on the heels of his previous work on "Seaquest," "The Pretender," "Charmed," and "Boomtown," among others.
And while he's now working on feature film and comic book projects, as well as a pilot for what he calls a "political-based sci-fi action piece" for ABC, he took time to answer questions about the role he played in the genesis of "Lost," a series about plane-crash survivors on a mysterious island —Â and a whole lot more.
Q: How did you initially get involved with "Lost"? A: I was working on a (UPN) TV show called "Jake 2.0." … The show was on on Wednesdays, and they pre-empted us one night (in February) and showed a rerun of "America's (Next) Top Model" in our place, and that show did twice our rating. So we were canceled the next day, without any further ado, and I found myself free. … My agent called and said, "The agency has this weird project with ("Felicity" and "Alias" writer/producer) J.J. Abrams. They have an outline. They don't have script yet, but basically it's been green-lit to film off the outline." And I remember thinking, "Well, good luck."
It sounded pretty like it was going to be a real struggle to get this thing made in time for May, for when they select the pilots that are going to get on the air for fall. But the proposal was that, for one, the pilot was very expensive, very big, and it had a lot of mythology and all that, and I have a reputation as somebody who's really good with science fiction mythologies and world-building. And basically, the pitch to me was, they want to get a small room of maybe three or four writers to come in and help develop the mythology of the show. … For the next three months, me and a couple of other writers, Paul Dini, Christian Taylor and Jennifer Johnson … would just brainstorm ideas for what the show could be, and who the characters could be, as they were being cast.
Photo courtesy ABC MediaNet
Q: "Lost" premiered when networks were moving away from scripted dramas and toward cheap-to-produce reality shows (and even by scripted-show standards, "Lost" is hugely expensive, with its large cast filming episodes in Hawaii). Why do you think ABC was willing to see this through? A: You can't underestimate the power of J.J. Abrams. He did "Alias" for the network, he is somebody who is rightfully perceived as being a miracle worker. … ABC had been trying to develop a show about castaways on a deserted island for a while. They had actually developed a script with a writer named Jeff Lieber, and for whatever reason, they had parted ways on the script. So they brought the idea to J.J. … They generally felt like J.J. could take them to the Promised Land on this idea, and that really was the thing that sold it. And frankly, Damon (Lindelof) and J.J. together created — for a pilot to be green-lit from an outline is extremely unusual. And that was just one of those things where the document they wrote was just spectacular. … Honestly, it was a pretty unusual set of circumstances that brought them to it, and it was one of those things where, all of the elements came together in a very fast and very, almost incredible way.
Q: The show's DHARMA Initiative (a fictional research project tied to many happenings on the island) had its headquarters in Ann Arbor. I presume your presence in the writers' room is the reason for this? A: Actually, yes. I try to put Ann Arbor in as many things that I work on as I can. When you're in the writer's room, everybody contributes ideas. … And that was one of these things where I just thought, "Ah, that would be cool!" … I love Ann Arbor, I've always been a booster, and I try to pay homage to my hometown whenever I can.
Watch a "documentary" about the DHARMA Initiative on ABC's "Lost" website.
Q: What led to you leaving the show after the second season? A: The show was maturing, and the makeup of the writers' room of the show was changing. In its first year, it was about finding the right blend of voices and writers and people. I had given a lot to the show, and the show had given a lot back. And it was one of those things where I just realized that, in terms of what I could contribute to the show, I'd kind of gotten to the end of my usefulness. The show was going in different directions creatively, and we parted ways quite amicably. I continued to be involved in creating The Lost Experience, which is this online and offline alternative reality game that established a lot of the mythology of the show, and I went off to write about a psychic soccer mom ("Medium"). TV writing is an extremely nomadic trade.
Q: What do you think about "Lost"'s direction as a show since you left? A: The God's honest truth is I really haven't kept up with the show since I left. … I'm still very good friends with the writers of the show and with Damon, and I think that "Lost" is a massive animal that chews through story. But I think that … when we started on the show, J.J. and Damon … knew how they wanted the show to go, and we really worked very hard to create the underpinnings of that.
But when you're staring down the barrel of 16 hours of narrative storytelling … year after year, … you're really talking about a huge amount of story. And one of the things that happens with TV shows is that they evolve organically into the needs of the story you're trying to tell, and the characters take on lives of their own, and you realize that you have to take detours and you have to generate new conceptual material to support this block of time that you've got to tell the story. So I think about the direction they've gone in terms of time travel, and the flash forward, and the flash sideways — I think that it's a case of a show knowing where it wants to go and having to develop narrative devices to get there. … But in terms of, how do I feel about where the show has gone, I think that anybody who manages to successfully put together a serialized narrative of sustained quality the way that 'Lost' has — it's an incredible accomplishment.
Q: Did you have a favorite character? A: I think that the character that I became most identified with as a creator on the show was Sun, because I wrote her origin episode, … and I really was attached to (Jin and Sun's) mythology and their story. It was a weird thing, because when I was given the assignment of writing their origin, I was like, "What do I know about a Korean couple and their culture? I'm a Puerto Rican immigrant to the United States."
And then I started thinking, "Wow, a Puerto Rican immigrant to the United States." … My English wasn't all that great (when I arrived). It was hard for me to be understood, and I said, "You know what? I absolutely know what this guy (Jin) is going through." … And really, Jin kind of became a kind of totem for my own childhood struggles as a non-native child trying to be understood in Ann Arbor, Michigan. … And I think (the "All the Best Cowboys Have Daddy Issues" episode, which Grillo-Marxuach wrote) is a high-water mark for me personally as a writer in that it's tremendously emotional. Jack's story with his father was something that I created as well.
Daniel Dae Kim, who plays Jin, comments on the current season:
Q: How much of the endgame that's now being played out was planned from the outset? A: My prediction is that it will be — as narratives grow in size and complexity, they develop unique needs. … I can only make the assumption that the final conclusion of the series will bear some resemblance to what we discussed so early on, because so much of it was integral to Damon's own conception of the series. But after six years, those evolve and change. … If you come up with a single answer one day and say, "I'm going to write six years' worth of narrative storytelling to support this one idea that I had," I don't think that's necessarily a good thing. I think a lot of TV writing is about respecting the evolutionary process of creation.
Q: How much of "Lost"'s story arc was worked out in the early days? A: We needed to create things we could sustain for either a very short run or a long run. That's the uncertainty whenever you work in television. … Before 'Lost' got picked up, and certainly before it became this huge hit, … people were saying, "Well, what can you do? Can you wrap it up in 13 episodes? Can you wrap it up in one more hour? Can you make it a mini-series?" … So we were just trying to create things that had huge wide open spaces that we could fill for as long as the network gods would let us.
Q: What was the earliest indication to you that the show was going to be a hit? A: The first indication that I personally got was, we took the show to the San Diego Comic Con, partially because of J.J.'s imprimateur, partly because already such a buzz had been building up. … We played the first hour of the pilot in the biggest room in the venue, and we filled it. Part of that was Dominic Monaghan (Charlie), to be honest with you, who had just been in the 'Lord of the Rings' movies and was very popular with fans. So it was this weird gathering of Ringheads and J.J. Heads — it played to about 3,000 people all together. …
And it just went like gangbusters. You could feel that electricity in the audience. … That opening sequence of the plane crash is so powerful and so strong and so visceral, that, just watching how people responded to that, you just knew that you'd caught lightning in a bottle. …
Frankly, that was the big anxiety, but also the big motivator in the writers' room the entire first season. We had this incredible pilot, and we knew that every episode after it had to live up to it, and there was a lot of anxiety about that. But what it did for that writers' room is that it created this real sense of, we just have to come in and swing for the fences. And we had this thing that we said a lot, which was that the show should jump the shark every episode. Basically, we should just come up with the wildest, most out there stuff for the show episodically and not be afraid that people would say we were jumping the shark.
Q: "Lost" is a show of mysteries, and the fans parse every detail. Do the writers always know what everything is, and what it means, before throwing it into a storyline? Or do they allow themselves room for discovery as they go? A: To be honest, there's a little bit of both. Damon was very rigorous, especially at the beginning, about saying, "We will not put anything on the screen that we don't know what it is," because we were beginning to realize just how rabid our fan following was. … We had a continuity czar … whose job is keeping track of everything. But at the same time, you drop little things that become useful later on. You don't even think about them, and then, you think, "Oh, God, we just did this in episode 3; let's bring it back in episode 8." So again, it's a combination of evolution and intuition and pre-planning.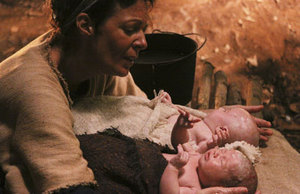 Photo courtesy ABC MediaNet
Q: Tons of shows try to establish a narratively seductive mystique, but "Lost" really broke through to the mainstream in a huge way. Why do you think that happened? A: I don't think that there's as good a cast on television as "Lost"'s cast. … So there's that. I think that Damon certainly put together an amazing room of writers, and has consistently over the years. … But there's also this tangible X factor that you can't quantify. I think that, had ABC not already tried and not been satisfied with the other version of this show; had J.J. Abrams not been free at that particular moment; had Damon Lindelof not been available to come in and work with J.J. on the pilot; had they not green-lit it at such a weird time, when there couldn't be as much meddling with it as there might have been; had it not been made in such a rush; you start looking at all of these things, and there's an alchemy that happens.
… Damon's own preoccupation with issues of parents and their children informed the show tremendously; and … there are two things about the show that I think give it that amazing amount of resonance. One of them is it asks questions that I think everyone asks themselves. What if I got stuck on a desert island? … What would I do with myself? Would it be "Lord of the Flies"? I think that's a timeless question, and it's a fundamental question. What would I do if I was isolated with a representative sample of humanity?
But also, I feel the show was very profoundly concerned with issues of personality, issues of family, issues of, who am I? And where am I going? And am I everything I can be? And have I done enough with my life? These characters are really trying to figure themselves out, and the island's a crucible for that.
The final regular episode of "Lost" airs at 9 tonight on ABC. A series retrospective airs from 7-9 p.m. Sunday, and the two-and-a-half hour series finale follows from 9-11:30 p.m. Sunday.
Watch a teaser for the series finale:
Jenn McKee is the entertainment digital journalist for AnnArbor.com. Reach her at jennmckee@annarbor.com or 734-623-2546, and follow her on Twitter @jennmckee.